Seat Leon >> Towing bracket
Assembly overview - towing bracket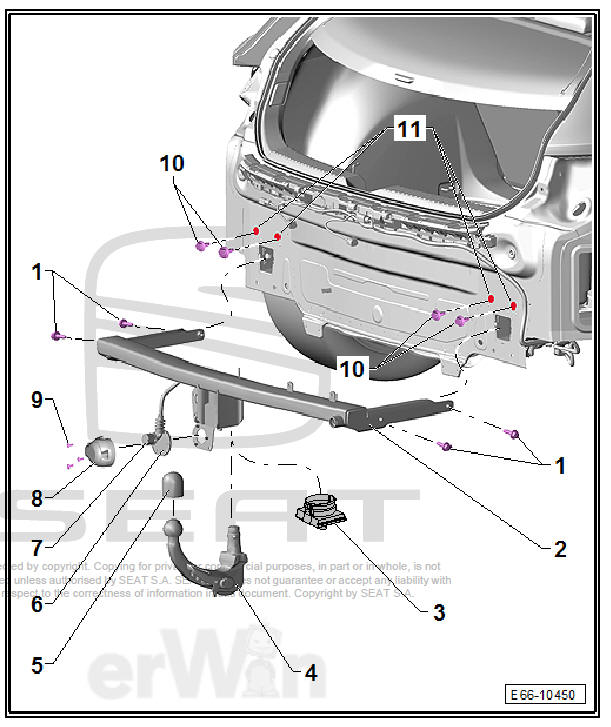 - Bolt.

4 off
50 Nm + 90º
Always renew bolt after loosening

- Towing bracket

Tow hitch with removable ball head

- Sealing plug

Insert into the opening after removing the tow hitch.

- Towing bracket
- Cap
- Retaining plate
- Wiring harness
- Electric socket
- Bolt.
- Bolt.

4 off
20 Nm
Gas-tight threaded connections
DANGER! The gas tight threaded connections prevent exhaust gas from penetrating the passenger compartment.
These must always be mounted.
- Cavity wax - AKR.308.SP5-
Note To prevent water penetration
Removing and installing towing bracket
Special tools and workshop equipment required
Torque wrench - VAG 1332-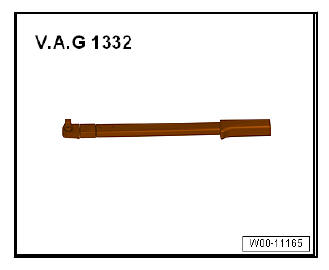 Removing
Remove rear bumper cover.
Remove screws -1-.
Remove the contact box -2-.
Undo the wiring harness from the fastenings -arrows-.
Detach wiring harness -5-.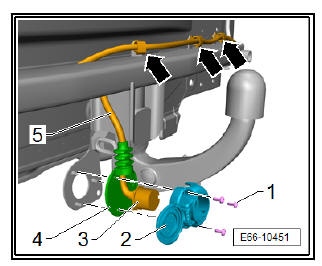 Remove bolts -arrows-.
Remove the towing bracket -1-.
Fit in reverse order from removal, remembering the following:
Specified torques