Seat Leon >> Removing and installing window guide
Special tools and workshop equipment required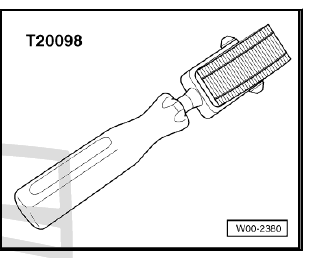 Note
The sequences below describe the processes for removal and installation for the left side of the vehicle. The corresponding sequences for the right side are similar with the exception that, where applicable, the scope of the process is written by yourself.
Do not bend window channel when removing!
Removing
Remove the rear door glass
Remove the rear door B-pillar outer trim
Remove the rear door C-pillar outer trim
In the front lower area of the door -2- unclip the door seal -1- in the zone between -arrow a- and -arrow b-.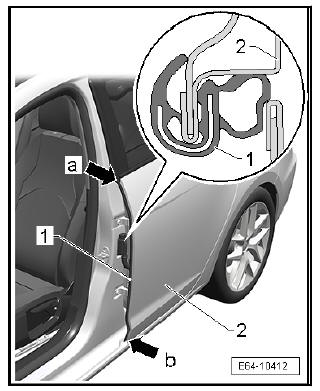 Release from inside the lip -3- of the door flange -2-.
Unfasten it starting at the back area and uniformly pull away the entire perimeter -Arrows a- of window guide -1-.
Remove the window shaft seal from the mount -arrow B-.
fitting
Note The inner part of the window guide is metal. If it is bent or distorted, it cannot be straightened out any more and remains "wavy".
Therefore, the window guide must be inserted evenly without being bent.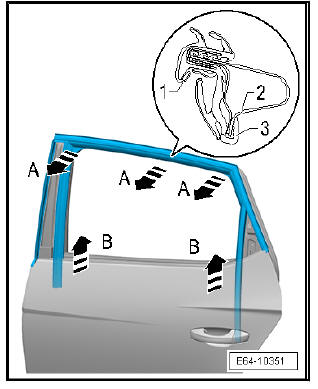 Installing window guide in its supports -Arrows a-.
Clip the window guide -1- evenly on the entire frame in the door flange.
Insert the sealing lip -3- of the guide on the door flange -2- .
Use isopropyl alcohol or heptanol to clean the area of the door on which you need to apply the cemented area of the window guide.
Then use silicon cleaning agent on the affected area. Allow to dry well.
Using the hot air blower - SAT 1416- , heat the application area on the bodywork to approx. 35ºC. Check the temperature using the digital thermometer - SAT 4013- .
Apply the cemented section of the window guide with a force of approx. 5 kg; apply pressure with the pressure tool - T20098- .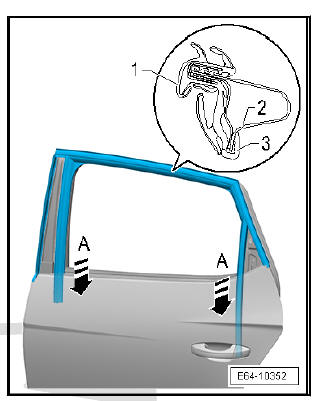 Caution
Before mounting the door trims, the function of the manipulated components must be checked.
Note Take care of a uniform seating all around the window guide to prevent wind noise.