Seat Leon >> What you should be aware of
General notes
All data in the official vehicle documents take precedence over this data.
All data in these documents are valid for the basic model as offered in Spain.
The vehicle data card included in the inspection and maintenance schedule in the vehicle registration documents shows which engine is fitted in the vehicle.
The figures may be different if additional equipment is fitted, for different models, for special vehicles and for other countries.
Abbreviations used in this paragraph of the Technical Data

Vehicle identification data
The most important data are given on the type plate and the vehicle data sticker.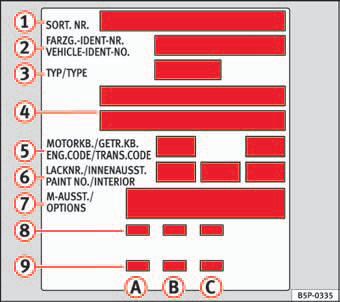 Fig. 183 Vehicle data sticker – luggage compartment
Vehicles for certain export countries do not have a model plate.
Type plate
The type plate is located on the left rib inside the engine compartment.
Vehicle identification number
The vehicle identification number (chassis number) can be read from outside the vehicle through a viewer in the windscreen. This is located on the lefthand side of the vehicle in the lower area of the windscreen. It is also located on the right-hand side of the engine compartment.
Vehicle data
The data sticker is placed on the inside of the spare wheel recess in the luggage compartment.
The following information can be found in the vehicle information fig. 183: This vehicle data is also contained in the Service Schedule.
1 Production control number
2 Vehicle identification number (chassis number)
3 Model code number
4 Model designation / engine power output
5 Engine and gearbox code letters
6 Paint number / interior trim code
7 Optional equipment codes
8 Consumption
9 CO2 emissions
The information given in numbers 2 to 9 are also shown in the Service Schedule.
CO emissions and consumption 2
A Consumption (l/100 km) / CO2 Emissions (g/km) urban
B Consumption (l/100 km) / CO2 Emissions (g/km) motorway
C Consumption (l/100 km) / CO2 Emissions (g/km) mixed