Seat Leon >> Visibility
Sun visors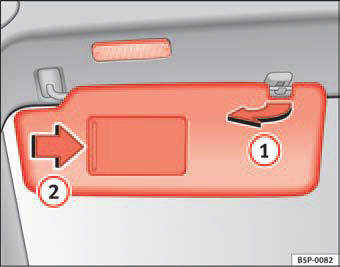 Fig. 80 Sun visor on the driver side
The sun visors for the driver and the front passenger can be pulled out of their mountings in the centre of the vehicle and turned towards the doors fig. 80 1.
The make-up mirrors in the sun visors have covers. When you open the cover 2 a light* in the roof turns on.
The lamp* in the roof lining will go out when the vanity mirror cover is pushed back or the sun visor is pushed back up.
Note
The roof lamp* will turn off about 10 minutes following the removal of the ignition key. This prevents the battery discharging.