Seat Leon >> Instrument and switch lighting / Headlight range control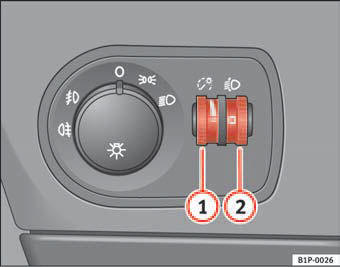 Fig. 74 Detail of the dash panel: Regulation for instrument and switch illumination and headlight range control
Instrument and switch lighting 1 When the headlights are switched on, the brightness of the instruments and switch lighting can be regulated to suit your requirements by turning the thumb wheel fig. 74 1.
Those vehicles fitted with xenon gas discharge headlights are fitted with an automatic headlight range system.
Headlight range control 2
Using the electrical headlight range control, 2 you can adjust the headlight range to the load level that is being carried in the vehicle. In this way, it is possible to avoid dazzling oncoming traffic more than necessary. At the same time, the driver has the best possible lighting for the road ahead using the correct headlight settings.
The headlights can only be adjusted when the dipped beam is switched on.
To lower the beam, turn the thumb wheel down 2 from the basic setting 0.
Dynamic headlight range control
Vehicles with gas discharge lamps ("xenon lamps") are equipped with dynamic headlight range control. This means that the headlights will be adjusted to suit the load level of the vehicle and "nodding movements" when pulling off and braking are automatically compensated for.
Vehicles with gas discharge lamps are not fitted with headlight range control.