Seat Leon >> Automatic lighting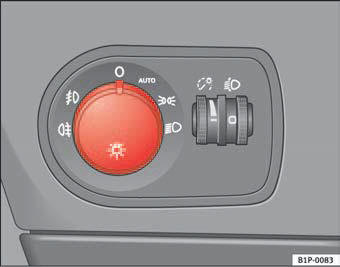 Fig. 73 Automatic lighting
Activation
– Rotate the switch to the position "Auto", this indication will light up.
When the switch is in this position, as soon as visibility conditions are reduced, the lights are automatically activated. The indication "Auto", changes to red.
Automatic lighting
If the automatic headlight control is switched on, dipped headlights are automatically switched on by a light-sensitive sensor if you drive into a tunnel, for example.
The rain function switches on the headlights if the continuous wipe function is switched on for longer than 5 seconds. The dipped beam headlights are switched off if the continuous wipe or the intermittent wipe functions are switched off for longer than 255 seconds.
WARNING
• If automatic headlight control is switched on, the headlights will not be switched on in fog or heavy rain. Therefore, the dipped beam must be switched on.
Note
• For those vehicles with the automatic headlight system, when the key is removed from the ignition, the acoustic signal will only sound if the light control is in the position

or

if the vehicle is not fitted with the coming home function.
• If the daylight driving automatic light function is switched on, the fog lights or rear fog light cannot be switched on in addition.
• The use of the lighting described here is subject to the relevant statutory requirements.
• Do not put stickers on the windscreen in front of the sensor. This may cause disruptions or faults in the automatic lighting system.