Seat Leon >> Cutting locations
Brake lines on underbody
- Brake line
- Brake hose
- Retaining spring
- Brake hose retainer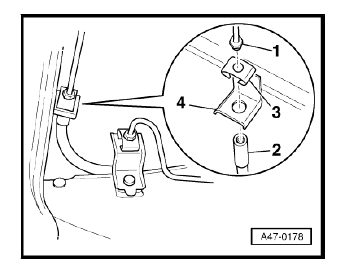 Brake line to brake line
When tightening union nut -1-, counter-hold union screw -2-.
Tightening torques: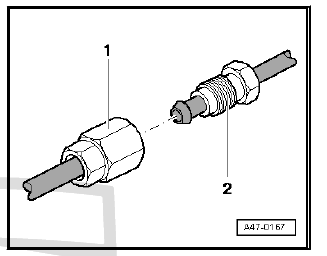 Routing of brake lines
The brake lines and brake pipes are supplied as replacement parts ready for installation.
Secure brake hoses and brake lines to the original mounting points when installing.
WARNING
Risk of accident.
Before performing the first test drive, make sure that the brakes are operating correctly.
Assignment of the lines on the main brake cylinder and on the ABS hydraulic unit - N55- .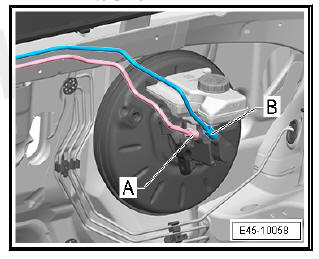 Press brake lines onto the hydraulic unit for ABS - N55- -1 ... 4-, -A and B-.
- Hydraulic unit to brake master cylinder (primary piston circuit), -HZ2-
- Hydraulic unit to brake master cylinder (secondary piston circuit), -HZ1-
- Hydraulic unit to front right brake caliper, -VR-
- Hydraulic unit to rear left brake caliper / wheel brake cylinder, -HL-
- Hydraulic unit to rear right brake caliper/wheel brake cylinder, -HR-
- Hydraulic unit to front left brake caliper, -VL-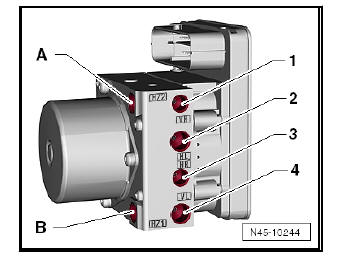 Brake lines on the hydraulic unit for ABS - N55- to master brake cylinder and brake callipers on LHD vehicles:
- ABS hydraulic unit - N55- with ABS control unit - J104-
- Brake servo and brake master cylinder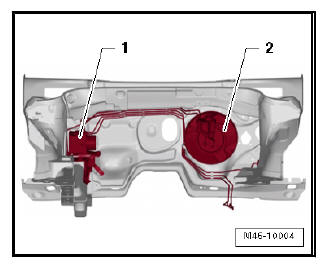 Brake lines on the hydraulic unit for ABS - N55- to master brake cylinder and brake callipers on RHD vehicles:
- Brake servo and brake master cylinder
- ABS hydraulic unit - N55- with ABS control unit - J104-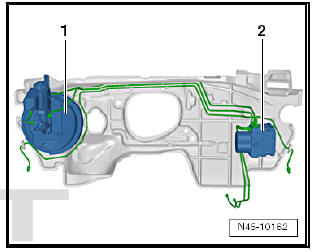 Brake lines on underbody:
- Brake line
- Brake hose
- Retaining spring
- Brake hose retainer