Seat Leon >> Removing and installing protective cap, vehicles with electronic parking brake
Special tools and workshop equipment required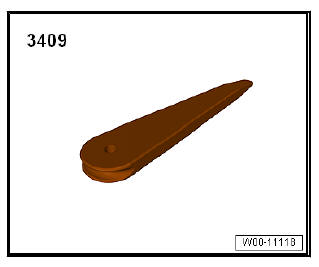 attachment tool - T10502-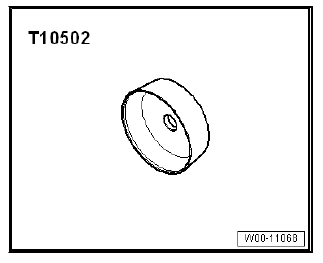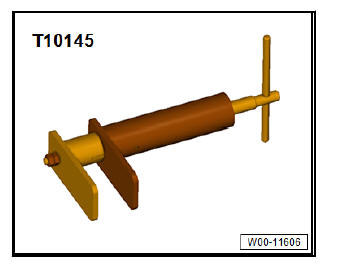 Removing
Only the protective cap is intended to be renewed.
Note Brake caliper does not need to be removed in order to renew protective cap; do not unbolt break hose.
The piston is removed.
Parking brake motor has been removed.
Caution
Risk of damage to ball screw due to removal of piston and compressor nut.
Never unscrew piston and compressor nut completely.
Unscrew piston (-direction of arrow-) by maximum of 20 mm (-dimension a-) using an E11 Torx socket.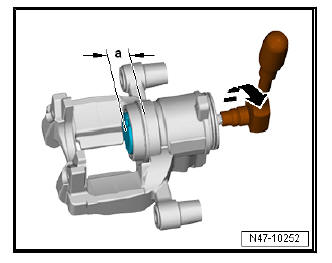 Loosen the protective cap of the brake caliper using the lever - 3409- -arrows-.
Installing
Carry out installation in the reverse sequence, noting the following:
The surfaces of the piston and brake caliper must be cleaned only with methylated spirits and then dried.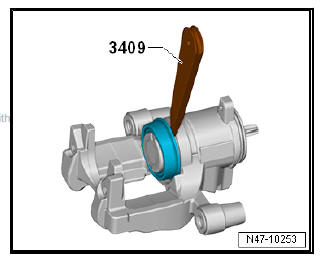 Insert protective cap into groove -arrow- in piston.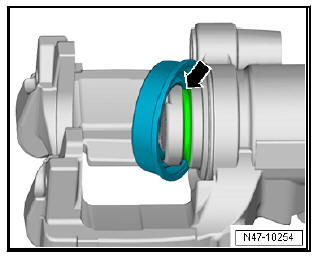 Now, screw piston back in (-direction of arrow-).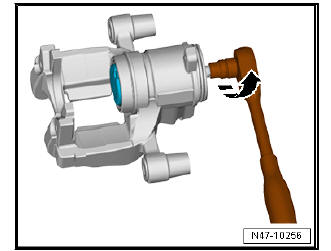 Press the protective cap against the brake caliper using the assembly tool - T10502- -2- and the piston resetting appliance - T10145- -1- so that it lies over the entire circumference.