Seat Leon >> Removing and installing parking brake motor -V282- / -V283-
Special tools and workshop equipment required
Vehicle diagnosis tester
Torque wrenches - V.A.G 1331-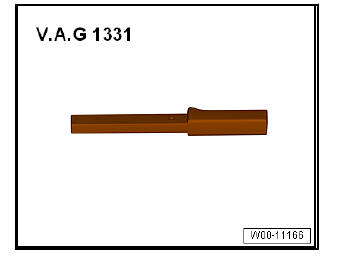 Lithium grease - G 052 150 A2-.
Removing
Note Switch off ignition for at least 30 seconds before disconnecting connector.
Detach connector -1-.
Unscrew both hexagon socket head bolts -arrows- from parking brake motor.
Remove parking brake motor from brake caliper, turning parking brake motor back and forth slightly.
Remove the seal ring.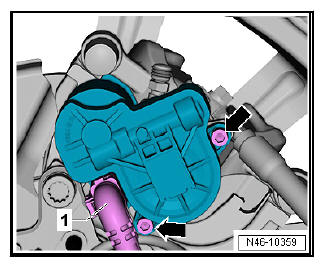 Installing
Note Renew seal after removing.
The annular groove of the seal and contact surface of the parking brake motor must not be damaged.
Clean annular groove and contact surface of parking brake motor.
Apply some lithium grease - G 052 150 A2- on the new seal and fit it without turning or damaging it.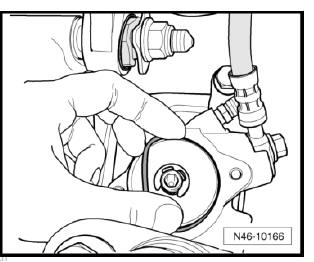 Push away the drive shaft using an E11 Torx socket -A- until the parking brake motor can be used.
Caution
The sealing ring must not be allowed to turn out while the parking brake motor is being installed!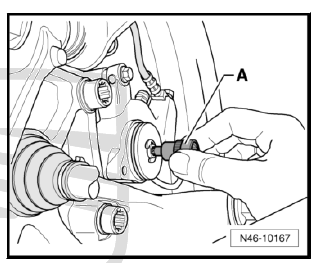 Carefully push parking brake motor onto brake caliper, while ensuring that seal is seated correctly.
Turn parking brake motor until bolt hole and thread align.
The parking brake motor must align with the brake caliper, it must not be pressed against the brake caliper with the bolt.
Position hexagon socket head bolts -arrows- by hand and tighten them.
Fit connector -1-.
Carry out basic setting of brake system using - Vehicle diagnostic tester.