Seat Leon >> Parking brake: setting, vehicles with manual parking brake
Note The new adjustment is only necessary if the hand brake cable, the brake callipers or the brake disks have been replaced.
Bring handbrake lever into the neutral position, move downwards.
Vehicles with front central armrest:
Remove the front centre armrest.
Vehicles without front central armrest:
Pull out rear cover of storage compartment of the centre console.
Continuation for all models:
Actuate the foot brake forcefully at least three times.
Apply handbrake firmly 3 times and then release.
If the handbrake lever is released before the first catch then it should automatically return to the home position.
Place handbrake lever in rest position.
Tighten adjusting nut -1- ...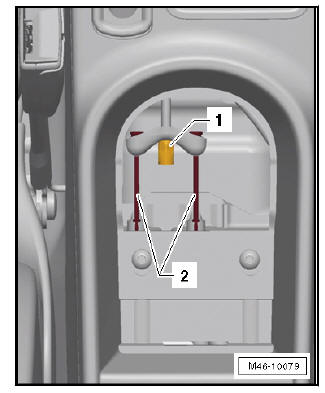 ... until lever -1- at brake calipers lift off stop -2-.
The distance -a- to the stop -2- - sum of the right and left brake calliper - must not be more than 1.5 mm.
Check that both wheels turn freely.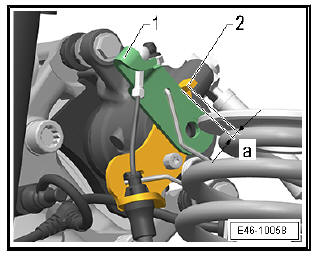 Note Due to the automatic adjustment of the rear brake, it is no longer necessary to adjust the handbrake after performing initial adjustment.
Removing and installing control unit for electromechanical parking brake - J540-
The control unit for electromechanical parking brake - J540- is integrated into the ABS control unit - J104- and cannot be renewed individually.