Seat Leon >> General instructions
Repair instructions for repair work on ABS
The ABS brake system is divided diagonally. The brake servo assistance is provided pneumatically by the vacuum brake servo unit.
Vehicles with ABS are not fitted with a mechanical brake pressure regulator. A specially matched software in the control unit controls the rear axle brake pressure regulation.
Faults in the ABS do not influence the brake system and servo assistance. Without ABS, the conventional brake system continues to function. A change in braking behaviour is to be reckoned with. After the ABS warning lamp comes on, the rear wheels may lock prematurely during braking.
ABS layout in left-hand drive vehicle:
- ABS hydraulic unit - N55- with ABS control unit - J104-
- Brake servo and brake master cylinder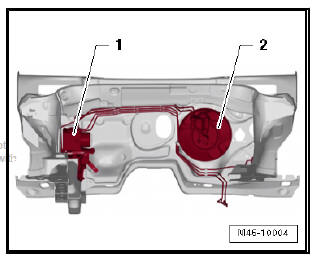 Arrangement of the ABS in right-hand drive vehicles:
- Brake servo and brake master cylinder
- ABS hydraulic unit - N55- with ABS control unit - J104-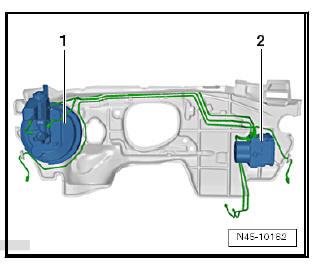 WARNING
Basically, the anti-lock braking system does not require maintenance.
Inspections, fitting and repairs must only be carried out by personnel specialized in these systems.
Failure to observe the information described in this Workshop Manual may result in damage to the system and could make the vehicle unsafe.
Before making repairs to the anti-lock braking system, locate the problem using the self-diagnosis - Vehicle diagnostic tester.
When installing a new hydraulic control unit, always check its coding - Vehicle diagnostic tester.
With ignition switched off, disconnect battery earth strap.
Observe the relevant safety precautions and information when handling brake fluid.
Always bleed the brake system (using brake filling and bleeding equipment - VAS 5234- ) after all work which involves opening the hydraulic system. In addition, a high and low-pressure test should be carried out on the brake system.
During the final road test, ensure that at least one ABS-controlled braking operation is performed (pulsations must be felt at the brake pedal) - Vehicle diagnostic tester.
Work on the ABS system demands the highest levels of cleanliness; under no circumstances should auxiliary materials that contain mineral oils such as oil, grease etc. be used
Thoroughly clean all connections and the adjacent areas before loosening; do not use harsh cleaning agents such as brake cleaner, fuel, thinners or similar.
Place the parts that have been removed on a flat surface and cover them.
If repairs cannot be completed immediately, carefully cover or seal open components (Use sealing plugs from repair kit - 1H0 698 311 A- ).
Do not use cloths with loose threads
Only unpack replacement parts immediately prior to fitting.
Only use spares that come in their original packaging
When the system is open, do not work with compressed air and do not move the vehicle.
Make sure that brake fluid does not enter the connectors.
WARNING
Do not bend the brake lines in the area of the hydraulic unit! Any damaged brake lines must be renewed.