Seat Leon >> Tyre pressure monitoring system
System description - tyre pressure monitoring system
General notes:
The tyre pressure monitor display is part of the software in the ABS control unit - J104- . It detects the gradual reduction of the tyre pressure of a wheel. Event memory entries for the tyre pressure monitor display are stored in the ABS control unit - J104- .
The tyre pressure monitor display compares the wheel speeds and consequently the rolling circumferences of the individual wheels with the help of the ABS speed sensors.
After the following work or modifications, the tyre pressure monitor display button - E492- must be pressed and held until a confirmation is sounded.
Change in tyre pressures
Changing one or more wheels
Swapping the wheels, e.g. the front ones with the back ones
Removing and fitting one or more wheels
A change in a wheel's rolling circumference will be indicated by the tyre pressure monitor warning lamp - K220- lighting up in the dash panel insert. A tyre's rolling circumference may change as a result of:
Insufficient tyre inflation pressure.
Structural tyre damage.
One-sided loading of vehicle
Increased load on one axle, e.g. due to towing a trailer
Use of snow chains.
Temporary spare wheel installed
Wheel renewal.
Fault in the anti-lock brake system
If there is an error message in the ABS through the control light for ESP and ASR - K155- the control light of the tyre pressure monitoring system will illuminate - K220- -1-. However, no fault will be stored in the system for the tyre monitor display.
The warning lamp cannot be erased. In this case, please carry out the following steps:
Connect - Vehicle diagnostic tester and select "Guided Fault Finding" - Vehicle diagnostic tester.
Please follow the instructions for carrying out the basic settings that appear on the screen.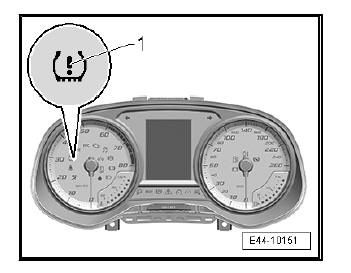 Carrying out basic setting of Infotainment system
Switch on ignition.
Switch on infotainment system -1- .
Press the CAR button.
Press SETTINGS on the touchscreen.
Push Tyres on the touchscreen.
Press Calibrate on the touchscreen.
The changes made are automatically saved when you exit the menu.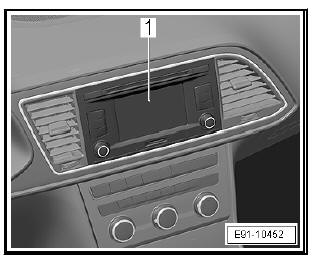 Perform basic setting: vehicles without multi-functional touchscreen.
Switch on ignition.
Press and hold the SET button in the glove compartment until an acoustic signal sounds.
The acoustic signal confirms the process for carrying out the basic setting.
The system calibrates itself to the tyre pressure and tyres installed during normal driving.