Seat Leon >> Check age of the tyre
NOTICE All tyres and wheels (front and rear) must be of same type and size. On four-wheel drive vehicles you must also ensure that all tyres are made by the same manufacturer and have the same tread pattern.
The age of the tyre can be determined using the "DOT" marking which specifies the date of manufacturing.
CAUTION
We recommend not to use any tyres older than 6 years.
Example of a "DOT" marking from the 01.01.2000:

In this example, the date of manufacture would be the first week of the year 2000.
Checking condition of tyre
Carry out the following work:
Delivery Inspection
Check tyres (tread and side walls) for damage and remove foreign bodies, for example nails and glass splinters, if necessary.
NOTICE If damage is determined, always check to see if a new tyre should be fitted.
Inspection Service
Check tyres (tread and side walls) for damage and remove foreign bodies, for example nails and glass splinters, if necessary.
Check tyres for erosion, one-sided tread wear, porosity on the side walls, cuts and perforations.
NOTICE The customer must be informed of any deficiencies found.
Check the tyre tread for even wear
The wear pattern on the front tyres will indicate, for example, if toe and camber settings should be checked:
Feathering on tread indicates incorrect toe setting.
One-sided tread wear is mainly attributed to incorrect camber.
When wear of this nature is noticed, locate the cause by measuring the geometry of the axles (repair measure).
Check depth of tread (including spare wheel)
Special tools and workshop equipment required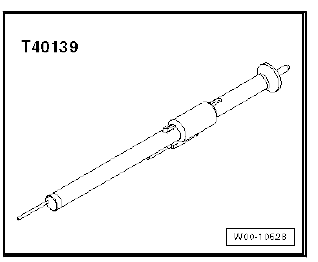 To check the tread depth of the tyres, move the sliding ring to the end in the direction of the measuring tip.
Then move the measuring tip of the tester up to the end in a tread groove and push the device evenly in the direction of the tyre until the tester makes contact with the belt of the tyre.
Then remove the tester and read-off the value on the scale with the tyre symbol.
NOTICE After a successful measurement, when removing the test device, take care that the sliding ring is not displaced. Otherwise, the measurement is faulty.
The second scale on the tester (brake symbol) can be used to determine the thickness of the brake pad.
NOTICE This figure may vary according to legislation in individual countries.
The minimum tread depth is reached when the tyres have worn down level with the 1.6 mm high tread wear indicators -arrows- positioned at intervals around the tyre.
NOTICE If the tread depth is approaching the minimum allowed depth, inform the customer.