Seat Leon >> Diesel fuel filter: Replace
NOTICE Please ensure that no diesel fuel makes contact with the coolant hoses.
If necessary, clean hoses immediately! Observe environmental requirements for disposal.
DANGER
Danger of burning! The fuel is very hot! In extreme cases the temperature of the fuel and fuel lines can reach 100º. Allow the fuel to cool down before disconnecting the lines. Otherwise, there is a risk of suffering severe burns.
Wear protection gloves.
Wear safety goggles.
Injury from high fuel pressure.
To relieve the pressure in the fuel system, cover connection with rag and loosen carefully.
Special tools and workshop equipment required
Protective gloves
Safety goggles
Removing
NOTICE Before opening the system place a clean cloth around the filter housing!
Unscrew the screws -arrows- and lift the cover of the filter housing -1- from the sides with the fuel lines attached.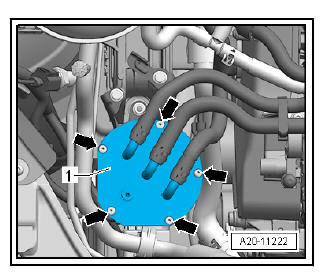 Remove the air filter cartridge -2- and the fuel filter housing -1-.
NOTICE Disregard the remaining positions.
Installation
Insert the air filter insert -2- into the centre of air filter housing -1-.
Screw the screws into the filter housing -4- and tighten to 5 Nm.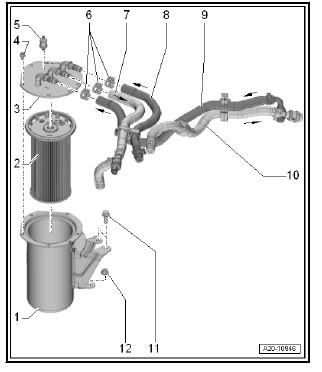 CAUTION
Running when dry causes irreparable damage to high-pressure pump.
Always observe the work instructions and information.
Failure to observe the work instructions can result in severe damage to the fuel pump.!
Purge the fuel system.
Start engine and check fuel system for leaks (visual check).
NOTICE Observe environmental requirements for disposal.