Seat Leon >> Documentation
The following documents are required when delivering a new vehicle:
Maintenance programme: Fill in the corresponding spaces for the work performed.
The onboard literature including the information about vehicle use.
The operation instructions for the radio or navigation device.
Obligatory vehicle documentation according to legislation of the country.
Certificates from additional SEAT Official Service.
Attach the decal with vehicle data on the proper page in maintenance program.
Glue sticker "data carrier" into maintenance programme
WARNING
If the PR number Ql (Ql1 - Ql7) is not on the sticker "vehicle data carrier", this must be determined in ElsaPro via the "vehicle data" and noted in the maintenance program of the customer.
The "data carrier" sticker of the vehicle is made up of two parts: -1- is stuck in the spare wheel cavity, -2- is stuck in the customer's maintenance programme. This is done during the delivery inspection.
Interpretation of the sections of the vehicle "data" label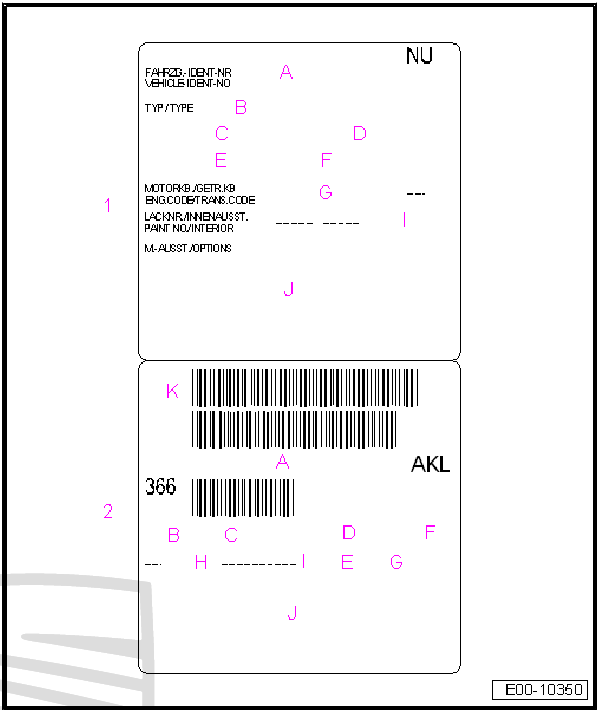 - Vehicle identification number
- Commercial type
- Model
- Variant
- Power in kW
- Gearbox
- Engine codes
- Paintwork code
- Upholstery type
- Optional extras incorporated in vehicle
- Bar code
Position of the vehicle "data" label
Located in the boot where the spare wheel is kept.