Seat Leon >> Tasks to be completed on the vehicle exterior
The vehicle is supplied from factory equipped with a series of protective covers fitted on the outside of the vehicle, designed to protect the vehicle during transportation and storage. Certain parts, such as wheel covers and roof antenna, are installed as part of the delivery inspection.
Tasks to be carried out
Fit all of the parts placed in the boot:
Remove all of the adhesive protection blocks from the following parts:

Front bumper
Rear bumper
doors

Remove the protective film from the door profile and from the boot lid handle.
Remove the rear wiper protection.
Remove the protective film from the bodywork that are stuck at the following points:

On the bonnet
On the roof
Cleaning tasks
Check for cleanliness, and if necessary clean:

Paintwork
Decorative elements
Glazing
Wiper arms
Mounting the number plate carrier
Special tools and workshop equipment required
Torque screwdriver - VAG 1624-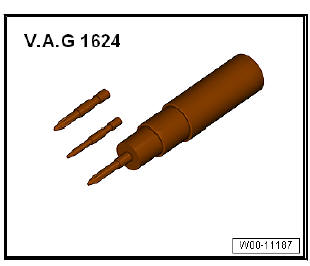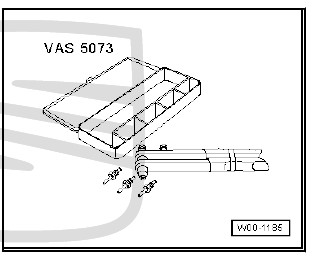 Drill
Drill bit Ø 11.5 mm
WARNING
The number plate carrier will only be delivered on the Chinese market together with the equipment bag.
Work sequence
NOTICE
The mounting templates of the number plate carrier are in the equipment bag. The templates have their own colour for each model.
Cut the front or rear template along the colour line of the respective model.
Position the template on the front or rear bumper. Look for the vertical and horizontal references according to the markings.
Dill the holes in the bumper using a Ø 11.5 mm bit through the middle of the circle drawn on the template.
CAUTION
Proceed with great care in order not to damage the bumper when drilling out the hole.
Insert the rivets -1- into the holes made in the bumper using the pop rivet nut pliers - VAS 5073A- .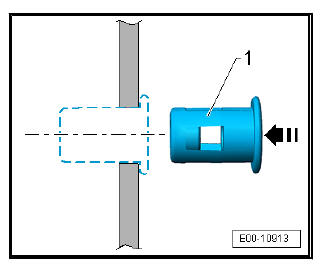 Holes -A- must be used for fixing the number plate carrier to the bumper.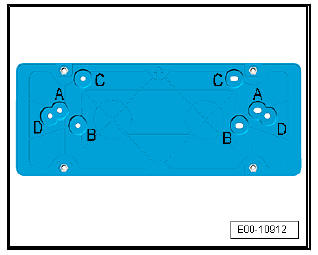 Apply the bumper carrier -1- and tighten the screw -2- to 2 Nm.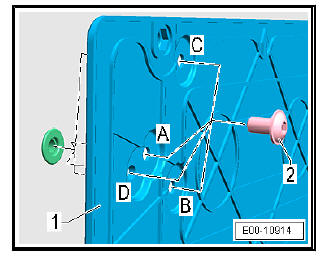 Assembly of the number plate or number plate carrier, vehicles with wheels
NOTICE
When assembling the number plate or number plate carrier on the front bumper, the area of the radar signals is kept free.
The number plate or number plate carrier -2- must not exceed the maximum dimension -A- measured from the end of the bumper -1- in order to prevent interferences with the area of the radar signals -3-.
NOTICE
The maximum dimension -A- applies to all the bumper designs.