Seat Leon >> Service tables for market group A
Service intervals .
Interval for replacing the filter.
Interval for replacing the toothed belt .
Interval for replacing the spark plugs.
Other additional work.
NOTICE
For combined kilometre and time display applies: whichever occurs first.
Depending on conditions under which the vehicle is used and vehicle equipment, extra service work must be performed in addition to the interval service, inspection/service, inspection or extended inspection.
It is also possible to perform additional work outside the service intervals with regard to the entries in the service schedule (or sticker: your next service).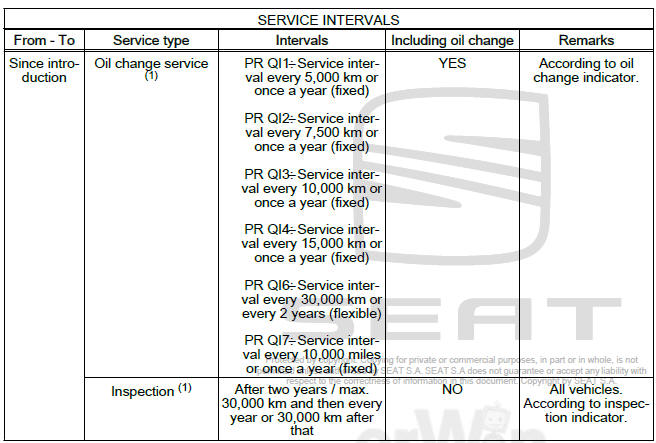 6) (1) There is also a special service which combines the "Inspection and oil change".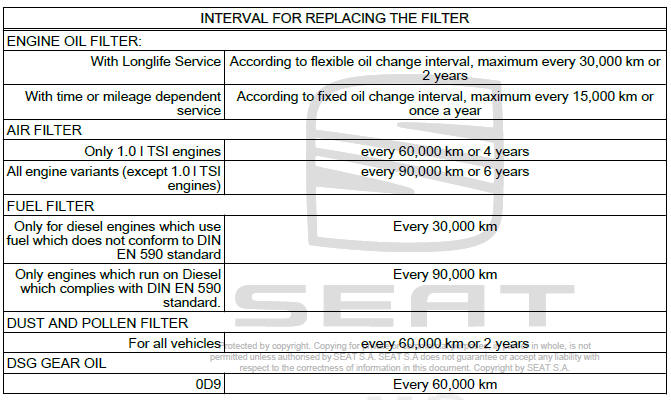 INTERVALS FOR REPLACING THE TOOTHED BELT

ENGINES
AS OF
UP TO
REPLACE TOOTHED BELT
REPLACE TENSIONING ROLLER
TDI Common Rail
Introduction
-
210,000 km
210,000 km
TDI Common Rail
Introduction
-
120,000 km

Applies only for vehicles with diesel engine, in countries where there is a great development of dust.

20,000 km

Applies only for vehicles with diesel engine, in countries where there is a great development of dust.

TSI 1.0 l, 1.2 l and 1.4 l MPI 1.6 l
Introduction
-
No specified replacement period.

Drive via toothed belt which is to be regularly inspected.

See "Miscellaneous additional tasks"

-
INTERVALS FOR REPLACING THE SPARK PLUGS

ENGINES
INTERVAL
All petrol engines

With the exception of the African market

60,000 km or 4 years

With the exception of the African market

All petrol engines

Only for the African market

30,000 km or 2 years

Only for the African market
SPECIAL ADDITIONAL WORK

ADDITIONAL WORK

INTERVAL

6-gear DSG gearbox 0D9: change the oil and filter
Every 60,000 km
Automatic gearbox 09G: change oil (only 09G gearbox in hot countries)
Every 60,000 km
Expanded scope of inspection (only together with the inspection)
After 3 years / max. 60,000 km and then every 2 years or 60,000 km after that
Panorama roof: check operation, clean drains and lubricate guides
After 3 years / max. 60,000 km and then every 2 years or 60,000 km after that
Particulate filter: checking
210,000 km (first time) and then every 30,000 km
Check toothed belt (only 1.0 l, 1.2 l and 1.4 I TSI engines and 1.6 l MPI engines)
At 240.000 km, then every 30,000 km thereafter
Check coolant pump toothed belt (only 1.0 l, 1.2 l and 1.4 I TSI engines and 1.6 l MPI engines)
At 240.000 km, then every 30,000 km thereafter
Front axle differential lock: Oil change (only Cupra models)
Every 3 years
All-whee-l drive coupling: change oil (only vehicles with all-wheel drive)
Every 3 years
Brake fluid and clutch: Renew
After 3 years (first time) and then every 2 years
Natural gas system: Visual inspection of natural gas tank for corrosion and implementation of a leakage test (only vehicles with natural gas)

WARNING: Must only be carried out by specially trained personnel.

After 3 years (first time) and then every 2 years
Check condition of cap and natural gas filler neck; if necessary clean and check seal (only for vehicles with natural gas)
After 3 years (first time) and then every 2 years
Natural gas tank: replace (only vehicles with natural gas)

WARNING: Must only be carried out by specially trained personnel.

Every 20 years