Seat Leon >> Removing and installing air-intake duct
Removal:
Turn off the ignition and all electricity consumers.
Vehicles without access and start authorisation system
Remove ignition key, if fitted.
Vehicles with access and start authorisation system
Store ignition key outside the vehicle to prevent the ignition from being switched on unintentionally.
Continued for all vehicles
Remove the drip rail.
If present: separate the electric connector from the air quality sensor - G238- .
Remove nuts -arrows-.
Take the fresh air intake -1- out of the plenum chamber.
Installing
Install in reverse order of removal; note the following.
Assembly sequence:
Align air grille on metal collar.
Hold air intake grille and screw on outer nut until it reaches half of welded stud.
Screw on nut on opposite side.
Tighten outer nut.
Tighten centre nut.
Note
The seal -2- must be properly seated on air intake grille.
Water may ingress into the fresh air intake if the fresh air intake grille is damaged or not properly fitted. This may result in complaints about odours from the heater/air conditioner and/or moisture in the passenger compartment.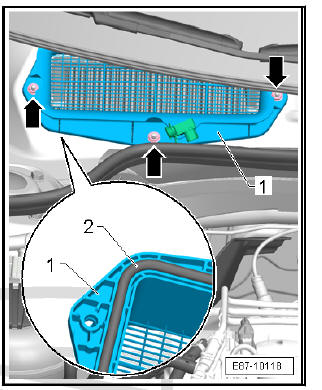 Specified torques: