Seat Leon >> Removing and installing fresh air blower - V2-
Removal:
Turn off the ignition and all electricity consumers.
Vehicles without access and start authorisation system
Remove ignition key, if fitted.
Vehicles with access and start authorisation system
Store ignition key outside the vehicle to prevent the ignition from being switched on unintentionally.
Continued for all vehicles
Remove the lower glove compartment trim.
Use a screwdriver to unfasten the quick-release fastener -1-.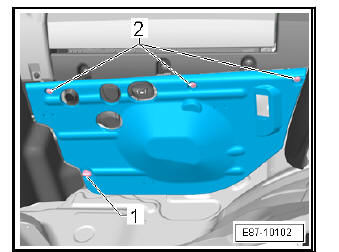 Remove the hollow bolts -2-.
Unscrew the bolt -3-.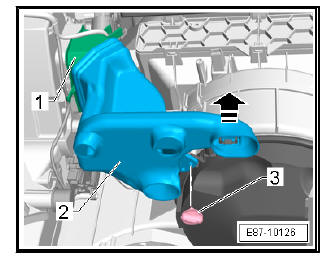 Disengage the retaining tab -arrow- and remove the vent -2- from the air distributor body -1-.
Detach the electrical connector -3-.
Undo the fixing screw -2- of the air nozzle.
Lift the locking lug -4- and turn the fresh air blower -1- clockwise -arrow-.
Pull the fresh air blower out of the bottom part of the evaporator housing.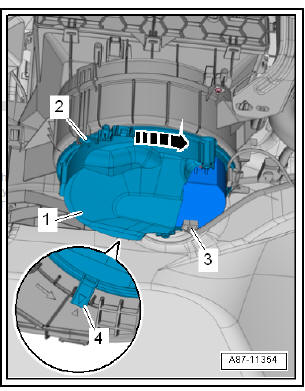 Caution
Fan impeller imbalance.
Do not grasp hold of the impeller of the fresh air blower - V2- . Applying force to the impeller or moving the balancing weights attached to the impeller could cause imbalance and thus operating problems.
Installing
Install in reverse order of removal; note the following.