Seat Leon >> Removing and installing right temperature flap servomotor - V159-
Removal:
Turn off the ignition and all electricity consumers.
Vehicles without access and start authorisation system
Remove ignition key, if fitted.
Vehicles with access and start authorisation system
Store ignition key outside the vehicle to prevent the ignition from being switched on unintentionally.
Continued for all vehicles
Remove the lower glove compartment trim .
Use a screwdriver to unfasten the quick-release fastener -1-.
Remove the hollow bolts -2-.
Removing footwell vent on front passenger side.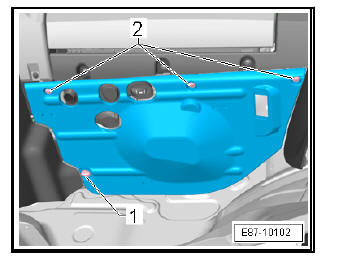 Detach the temperature flap operating shaft -1-.
Remove bolts -arrows-.
Remove the Right temperature flap control motor - V159- -2-.
Detach the electrical connector -3-.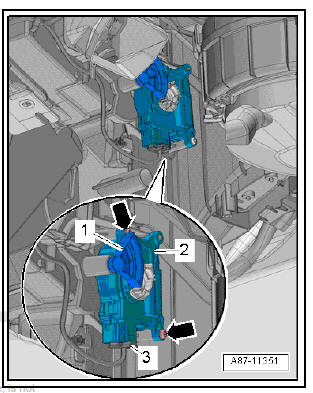 Installing
Install in reverse order of removal; note the following.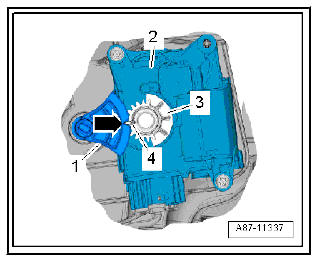 Note
Check operation of flaps and hinge mechanism before fitting.
Make sure levers and shafts are properly fitted in the mounts.
Position the control motor -2- at the air distribution housing.

The gear wheel -3- at the control motor must engage in the gear wheel -1- at the temperature flap lever.

The long tooth -4- must engage in the recess -arrow- at the actuating arm.
Note
Turn the mount in the control motor if the gear wheels at the control motor and temperature flap lever are not opposite one another.
The control motor is not properly positioned on the housing if the bolts cannot be fitted.
Route wiring harness so that it cannot come into contact with any moving parts (e.g. actuating arm on servomotor).