Seat Leon >> Technical data
Repair notes
Instructions for general repairs
Repairing cables and plug connections.
Release and dismantle connector housing .
Repair antenna cables.
Vehicle diagnostic, testing and information system.
Notes on repair of CAN bus wiring
Repair CAN data bus cables.
Transmitting power and aerial fitting locations
Note Installation of aerials on bumpers is now prohibited by law. This improves pedestrian protection during accidents.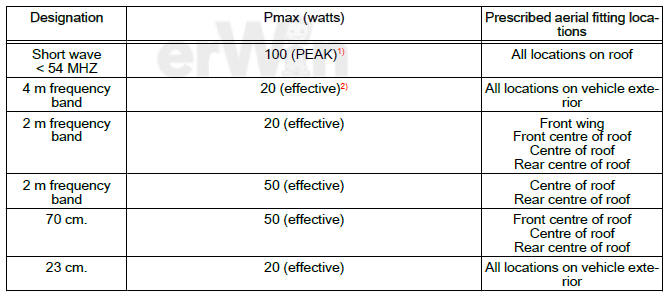 1) PEAK = peak envelope power (max. carrier power)
2) effective = effective transmitting power
Note
Deviations from these specifications (aerial fitting location, frequency, power) are permitted only in specially justified exceptions following a single-case test performed by the EMC Centre of the VW AG in Wolfsburg.
EMC = electromagnetic compatibility.