Seat Leon >> Rear window washer system
Assembly overview - rear window washer system
Assembly overview - back windscreen wiper system, vehicles without additional left cooler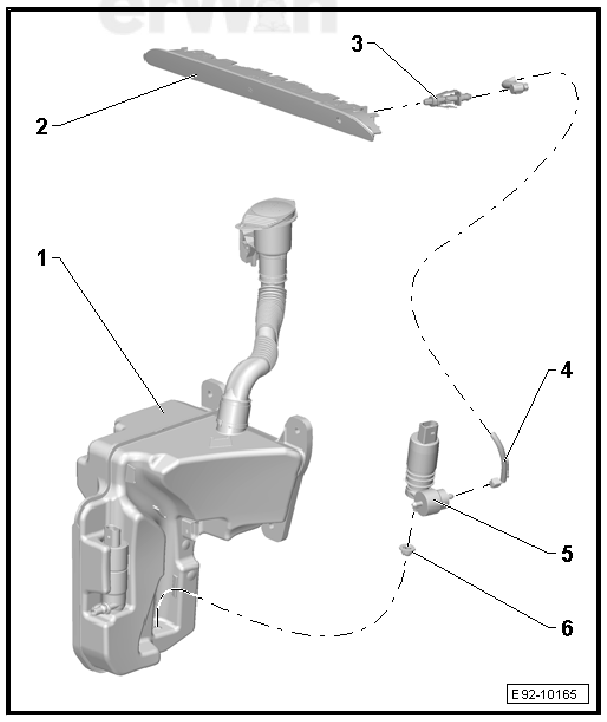 - Windscreen and headlamp washer reservoir
- Additional brake light

Removal and installation
Removing and installing, on spoiler

- Washer jet

Removal and installation
Adjusting

- Water pipe

For rear window washer system

- Windscreen and rear window washer pump - V59-
- Sleeve
Assembly overview - back windscreen wiper system, vehicles with additional left cooler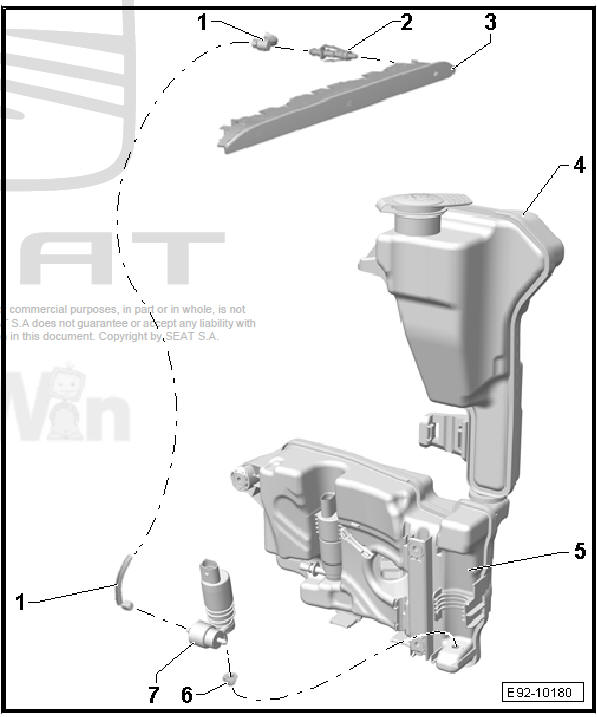 - Water pipe

For rear window washer system

- Washer jet

Removal and installation
Adjusting

- Additional brake light

Removal and installation
Removing and installing, on spoiler

- Filler neck for the window and headlight washer system reservoir
- Windscreen and headlamp washer reservoir
- Sleeve
- Windscreen and rear window washer pump - V59-
Removing and installing the spray jet
The spray nozzle is installed in the lamp for the additional brake light - M25- .
Removing
Remove the High-level brake light bulb - M25- .
Release both catches -arrows- and pull spray jet -1- to rear out of high-level brake light bulb - M25- .
Installing
Installation is carried out in reverse order.
Adjusting spray jet.
Spray jet: adjustment
Note In case of uneven spray field due to impurities within the spray jet: remove spray jet and rinse it through with water, opposite to direction of spray. Blowing through in the opposite direction with compressed air is permitted. Do not use any objects for cleaning spray jets!
Adjustment of the wash jet for rear window washer system.