Seat Leon >> Removing and installing A-pillar trim
Special tools and workshop equipment required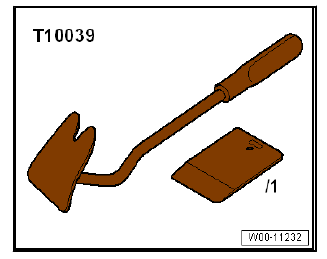 Removing
Note The inner section of the window well seal is made of metal. If it is bent or distorted, it cannot be straightened out any more and remains "wavy". Therefore, the window well seal must be inserted evenly without being bent.
Using the wedge - T10039/1- only carefully remove the last part of the window shaft seal on the outside in the area of the trim.
Remove plugs -2-.
Unscrew the bolt -1-.
Remove the trim-3-.
Remove the damping foam.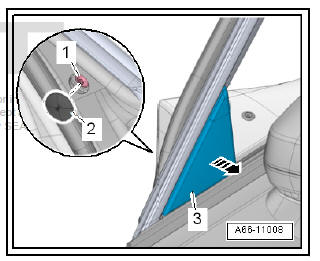 fitting
Fit in reverse order from removal, remembering the following:
Only install the window shaft seal outside if the trim of the Apillar is already installed.
Special tools and workshop equipment required Hot-air blower - SAT 1416- Digital thermometer - SAT 4013- Thrust piece - T20098- Release lever - U 30800- Adhesive strip remover - VAS 6 ...
Removing Move door window to "open" position. Remove the seal -1- of the rear window guide in the area of the trim -4-. Unscrew and remove the screws -Arrows a- Remove spreader blocks. S ...