Seat Leon >> Exploded view - water deflector
Note The sequences below describe the processes for removal and installation for the right side of the vehicle. The corresponding sequences for the left side are similar with the exception that, where applicable, the scope of the process is written by yourself.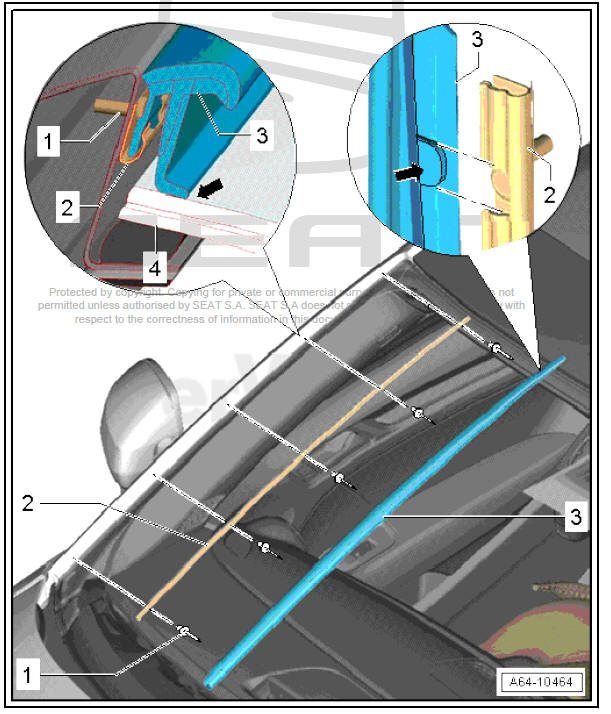 - Blind rivet

5 off
Material: Aluminium

- Guide profile
Removing:

Using a drill and a drill bit with the same diameter as the rivet body, countersink the head.
Press out the rivet head using the driver.

Fitting
Fit in reverse order from removal, remembering the following:
Caution
Protect the surrounding painted components accordingly.
Apply zinc spray around the boreholes of the connection between the carrier parts.
- Water drain strip
Removing
DANGER! Wear leather gloves in all cases.
Starting in the lower area, clip out the strip of the guide valve manually.
fitting
Fit in reverse order from removal, remembering the following:
Note The lip of the water drain strip must rest on the windscreen -arrow, detail left side -
Starting at the top to the bottom until the projection corresponds -arrow, detail right side -.
- Windscreen
- Bolt. 10 off 1.5 Nm - Clips 5 off - Support plate 5 off Secured to underbody with spreader clip. - Retaining strip - Double-sided adhesive tape - ...
See also:
Dismantling and assembling output shaft
Special tools and workshop equipment required Tightening plate - VW 402- Die - VW 407- Die - VW 412- Tube element - VW 415 A- Thrust pad - VW 432- Inlay socket - 30 - 100- ...