Seat Leon >> Preparing new windows for installation
Caution
New panes of glass have the following characteristics:
You make a reference line on the inside in order to make the application of the adhesive sealing material (PUR) easier.
The area marked does not have a primer layer.
Proceed with preparation of a glass for installation according to the following instructions:
Clean a 20 mm wide strip round the edge of the glass surface with cleaning solvent - D 009 401 04- .
Then rub edge of window dry using a lint-free cloth.
WARNING
Ceramic coating on window is not a primer! Before applying the adhesive sealing material (PUR), the adhesive surface must always be primed! Only use primer (Glass/Paint) - D 009 200 02- .
Apply evenly on the glass area -1- a coat of primer (Glass/ Paint) - D 009 200 02- -4- by using an applicator - D 009 500 25- -3-.
Note Where a glass with surrounding profile or sealing lip -2- is concerned, note that when applying the adhesive to the primer coat a distance of around 2 mm to the aforementioned profile is to be observed.
Flashing-off time, approx. 10 minutes.
Apply the PUR adhesive sealing material.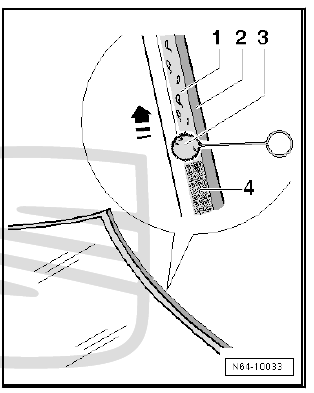 Preparing undamaged windows (windscreens) for installation Note Depending on the production condition of the vehicle the arrangement of the beads of adhesive sealant on the sides of the wind ...
If a (new or used) window has to be installed, the adhesive bead and adhesive sealing material (PUR) must be cut back from the body flange. For this purpose follow these instructions: Cautio ...
See also:
Leaks at shock absorbers
Shock absorbers are often replaced because of externally visible leakage. Inspections on the test rig and in the vehicle have shown that in the majority of cases this replacement is not justified. ...