Seat Leon >> Assembly overview - sliding sunroof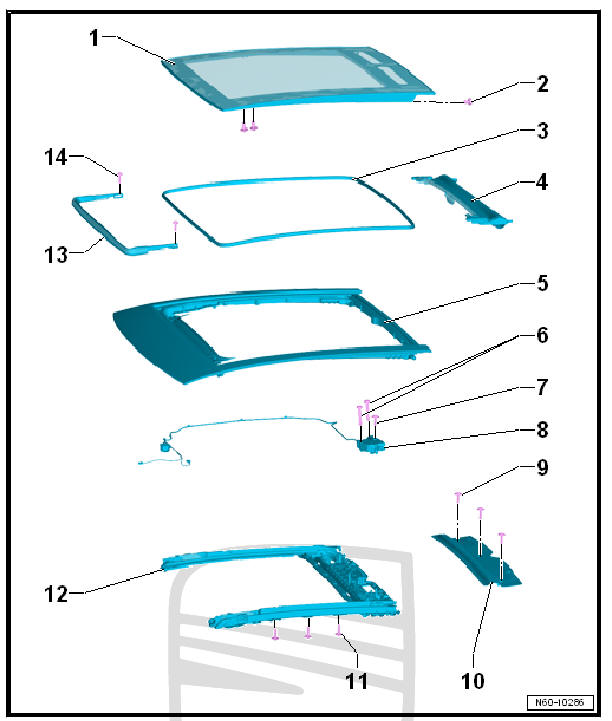 - Glass panel for panorama tilting sunroof (single pane safety glass)
- Bolt.
- Seal of sliding sunroof frame
- Sliding sunroof roller blind
- Sunroof frame
- Bolt.
- Bolt.
- Sliding sunroof adjustment control unit - J245-
- Bolt.
- Cover
Removing
Removing the panoramic window. Proceed as follows:

Actuating motor for the functions.
The actuating motor for these functions is defective.

Remove bolts.
Remove the cover by pulling it in the direction of travel.
fitting
Fit in reverse order from removal, remembering the following:
Use the tightening torque of the screws.
- Bolt.
- Running guide
- Wind deflector
- Bolt.
Assembly overview - Cranks and tilt mechanism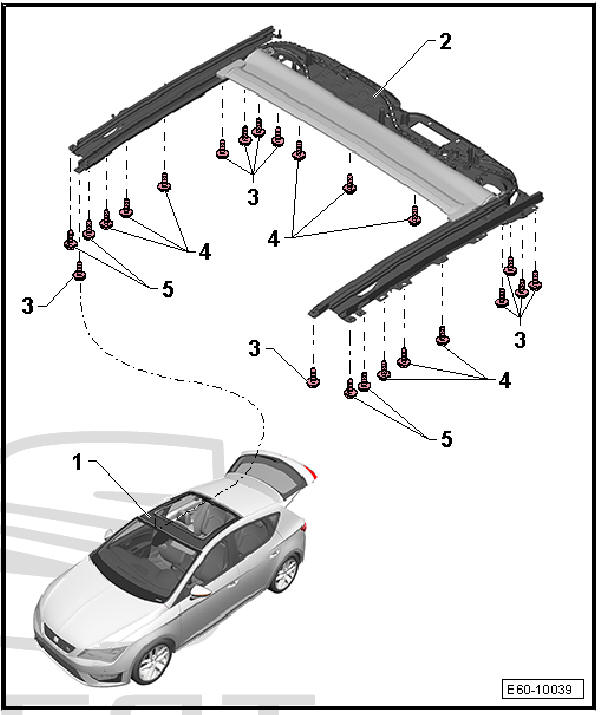 - Sliding/tilting sunroof frame
- Frame with operating mechanism
- Bolt.
- Bolt.
- Bolt.
- Tension bow - Sliding piece (bottom part) - Sliding piece (top part) This element has a spring on its right side - Spring 1x Only for the right side - Spring cov ...
See also:
Gearbox housing, clutch housing
Assembly overview - clutch housing - Conical bolt Tightening torque - Flanged shaft with pressure spring Removing and installing Assembly - Bolt Must be renewed if ...