Seat Leon >> Removing and installing door
Special tools and workshop equipment required
Torque wrench - V.A.G 1331-
Note The sequences below describe the processes for removal and installation for the left side of the vehicle. The corresponding sequences for the right side are similar with the exception that, where applicable, the scope of the process is written by yourself.
Removing
Open the front door.
Disconnect the multi-plug in the A-column.
Unscrew bolt -2- on door retainer.
Detach the caps -1- and -3- from studs -4-.
Release the fixing pin -4- of the hinge axis at the top, do not screw out.
Release the fixing pin -4- of the hinge axis at the bottom, do not screw out.
Lift the door upwards and remove from hinge shafts carefully.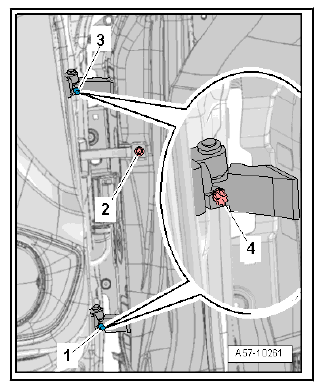 Note To protect the components removed against damage, cover the resting surface with soft material.
fitting
Fit in reverse order from removal, remembering the following:
Note
Threaded pins -4- must always be replaced.
After fitting the door, do not make any adjustments.
Place the door on the hinge shafts carefully.
Tighten the threaded pins -4-.
Removing and installing door outer seal, 4-door model Removing Pull door seal -1- off door -2- together with the clips -3-. fitting Check clips -3- for damage and renew if necessary. P ...
Special tools and workshop equipment required Torque wrench - V.A.G 1331- Adjustment gauges - 3371- Front door adjustment (hinges on pillar) By adjusting the screws (on the pillars) ...
See also:
Sub-frame
Assembly overview - subframe - Anti-roll bar with rubber bush Removing and installing - Nut When tightening, counterhold multi-point socket of joint pin Always renew aft ...