Seat Leon >> Removing and installing hinges
Special tools and workshop equipment required
Torque wrench - V.A.G 1331-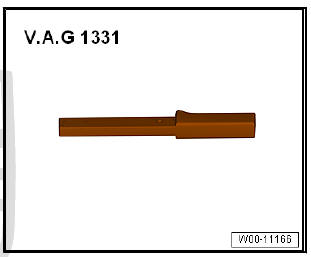 Adjustment gauges - 3371-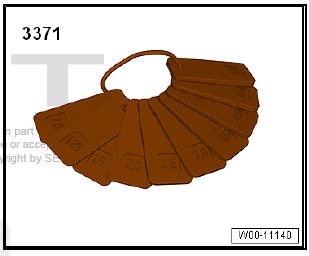 Removing
Note The sequences below describe the processes for removal and installation for the left side of the vehicle. The corresponding sequences for the right side are similar with the exception that, where applicable, the scope of the process is written by yourself.
Remove the bonnet
Undo bolts -1- and remove hinge.
fitting
Fit in reverse order from removal, remembering the following:
Place hinges on threaded rods of bonnet and tighten the hexagonal nuts by hand.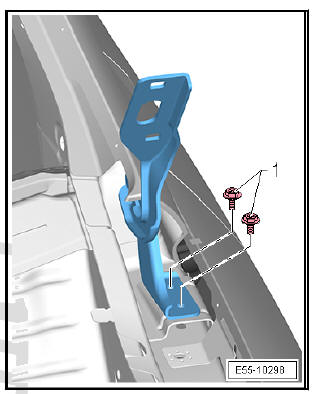 Note Centrally align threaded rods with respect to the openings of the hinges and tighten by hand turning the nuts 2 turns.
The remaining assembly operations require the assistance of a second operator.
Place the bonnet, secure the hinges on the top outer side of longitudinal members and tighten the screws by hand.
Adjust the bonnet so that the side profiles of the bonnet, wing side, are in line with the upper A-pillar.
Close the hood and check and adjust the back side of the hood with the upper A-columns.
Tighten the hex screws to the tightening torque/
Place the front wings in position with the upper bolts and adjust the spacing between the wings and bonnet.
After completing the adjustment work, tighten the hex screws to the tightening torque.
Install the front bumper and check the gaps .
Note On completion of assembly or adjustment work, the hinges and hexagonal nuts should be protected against rust.
Removing and installing noise insulation
Special tools and workshop equipment required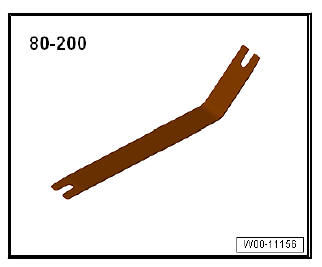 Removing
Lift the front bonnet. Use the rod to keep it open.
Using the lever - 80 200- remove all fixing clips -2- from the noise insulation of the bonnet -1- and separate.
fitting
Installation is done in reverse order of removal operations.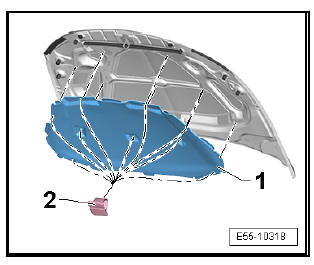 Removing Pull the operating lever -1- to open the bonnet. Insert a small screwdriver in gap between release lever -1- and retaining clip -2-. Undo the retainer -2- of the lever -1- -arrow ...
Removing Lift the front bonnet. Use the rod to keep it open. Release clip -1- and remove air hose. Note The configuration of the air supply ducts may vary depending on the engine version. ...
See also:
Assembly overview - condenser
Condenser, receiver - Condenser Removing and fitting - O ring Replace Moisten with refrigeration oil before fitting - Refrigerant piping - Bolt. 8 Nm - B ...