Seat Leon >> Separating brake pedal from brake servo
Special tools and workshop equipment required
Release tool - T10159 A- or
Release tool - T10159 B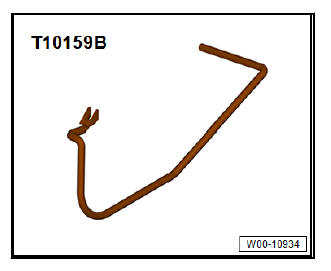 Removing
Remove driver's side knee airbag and cover (depends on version).
Work sequence for disconnecting:
Depress the brake pedal and hold depressed.
Fit the removal tool - T10159 A- or -T10159 B- and pull towards driver's seat (whilst the pedal remains depressed).
This will press the retaining lugs -3- of the mounting off the ball head of the push rod -2-.
Pull the release tool further and pull the brake pedal in the direction of the driver seat.
The brake pedal is thereby detached from the ball coupling of the push rod.
Switching on: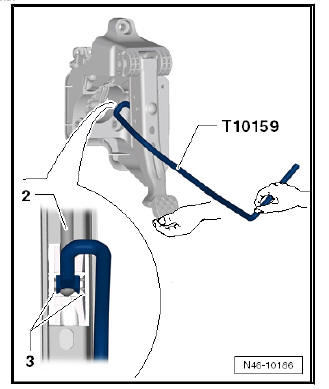 Hold ball head of plunger rod in front of mounting and push brake pedal in direction of brake servo, so that the ball head clicks into place.
Remaining installation steps are carried out in reverse sequence; note the following:
Install driver's side knee airbag and cover (depends on version).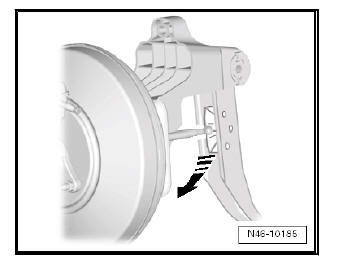 Assembly overview - brake pedal, LHD WARNINGThe brake pedal stroke must not be obstructed by fitting extra coverings to the footwell. - Brake pedal - Ball socket This is ...
Note It is not possible to remove the brake pedal individually. Remove the pedal cluster/ mounting bracket assembly first. Removing: Removing the support stand . Turn threaded fastener ...
See also:
Changing the rear wiper blade
A good rear wiper blade is essential for clear rear vision. Damaged wiper blades should be replaced immediately. Fig. 149 Changing the rear window wiper blade Removing the wiper blade – Lif ...