Seat Leon >> Assembly overview - speed sensor on front axle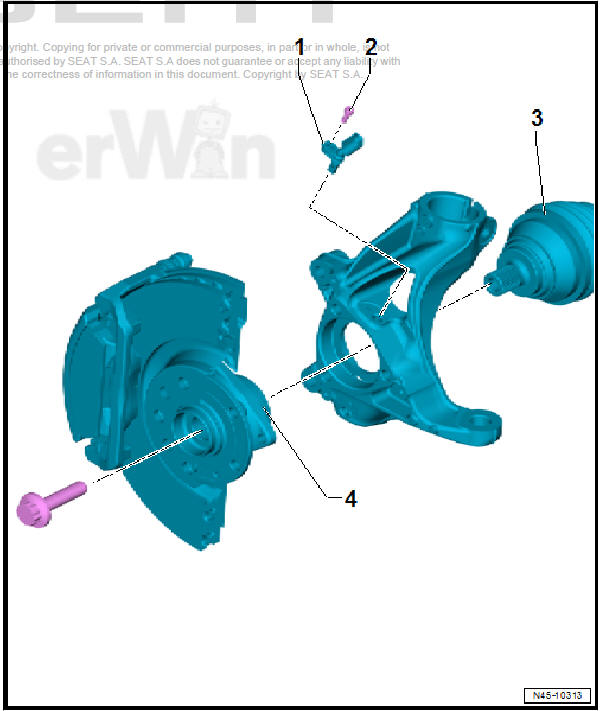 - Speed sensor

Front right speed sensor - G45- / rear left speed sensor - G46-
Before installing the speed sensor, apply lubricating paste all around - Electronic parts catalogue
Removing and installing

- Bolt
- Drive shaft

Assembly overview
Removing and installing

- Wheel hub with wheel bearing

The ABS sensor ring is built into the wheel bearing unit.
Removing and installing
Assembly overview - speed sensor on rear axle
Exploded view - speed sensor on rear axle, front-wheel drive
- Wheel hub with wheel bearing

ABS sensor ring is installed in wheel bearing.

- Rear axle

Before installing the speed sensor, the inner surface of the hole must be cleaned.

- Speed sensor

Rear right speed sensor - G44- / Rear left speed sensor - G46-
Before installing the speed sensor, apply lubricating paste all around - Electronic parts catalogue
Removing and installing

- Bolt
Exploded view - speed sensor on rear axle, all-wheel drive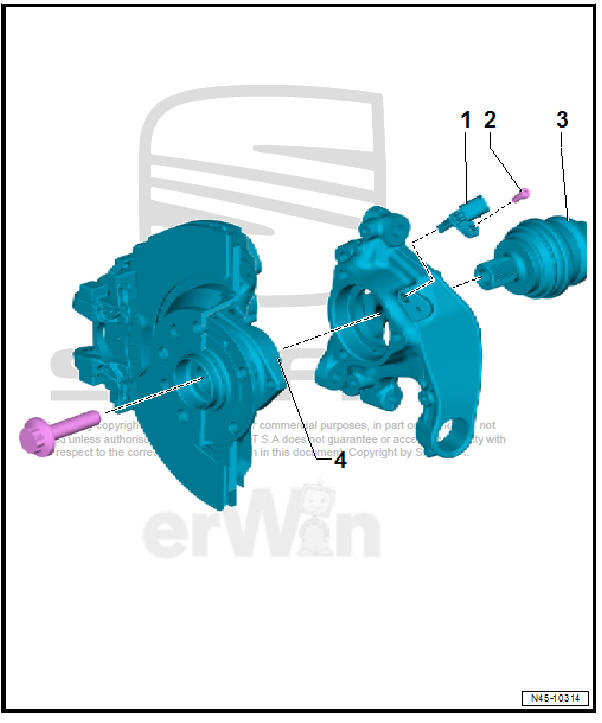 - Speed sensor

Before inserting sensor, clean inner surface of hole, and coat it with high-temperature paste - G 052 112 A3- .
Removing and installing

- Bolt
- Drive shaft

Assembly overview
Removing and installing

- Wheel hub with wheel bearing

The ABS sensor ring is built into the wheel bearing unit.
Special tools and workshop equipment required Torque wrenches - V.A.G 1410- Lubricating paste - Electronic parts catalogue . Removing Remove appropriate front wheel. Remove electr ...