Seat Leon >> Removing and installing coupling rod
Special tools and workshop equipment required
Torque wrenches - V.A.G 1332-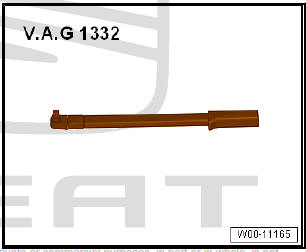 Removing
Unscrew nut -arrow- and pull coupling rod -1- out from suspension strut.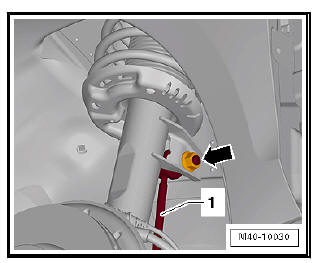 Remove nut -1- from coupling rod -3-.
Pull coupling rod -3- out of anti-roll bar -2-.
Installing
Carry out installation in the reverse sequence, noting the following:
Tighten nuts of coupling rod on suspension strut/anti-roll bar, if necessary, counterhold at multi-point socket head.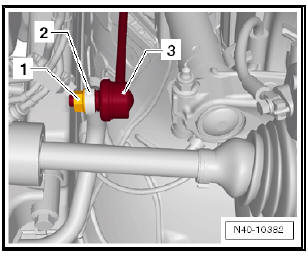 Repairing thread in longitudinal member
Repairing the thread in captive nuts in the longitudinal member is possible only under certain conditions.
Special tools and workshop equipment required Torque wrenches - V.A.G 1332- Engine elevator - V.A.G 1383 A- Removing Remove front wheels. If present, remove lower noise insulati ...
Note Certain repairs on vehicles require the removal of the subframe or the entire front axle. The original position of the subframe relative to the body can be retained with the aid of qty. ...