Seat Leon >> Self-aligning bearing and rubber bearing of the roller rocker arms: Visual inspection for damage
NOTICE This test must be performed with the vehicle standing on its wheels.
Make sure that the dust protective caps -arrow- are not damaged and are properly fitted.
Check the rear side of the dust caps using a mirror.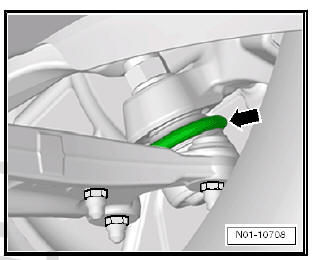 Check that the bearing of the wishbone -arrows- is not damaged.
There must be no clearance.
The vulcanised rubber bearing must not tear nor have any porous locations.
Coupling rod and rubber bearing of the stabiliser coupling: Visual inspection for damage
Check that the dust guards of the coupling rods -arrows- are not damaged.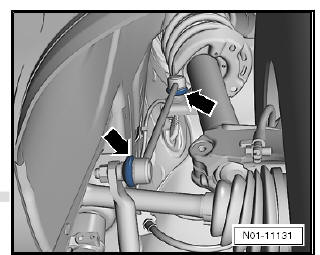 Check that the rubber bearings -arrow- are not damaged.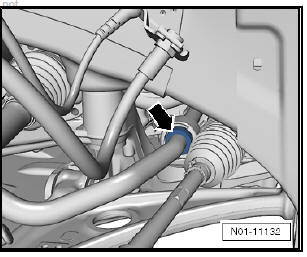 Automatic gearbox: renewing ATF
NOTICE The ATF for manual gearbox 09G must be changed, especially in warm countries. The consumption of ATF gearbox oil is greater under these climatic conditions. Countries affected are listed in the following table.
Hot countries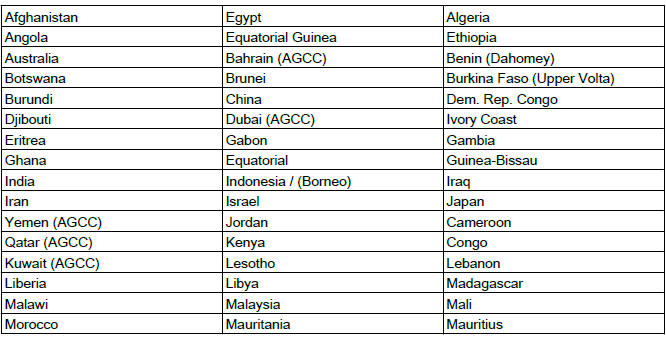 Check the dust protection on inside and outside of propeller shafts -arrows- for damage and leakage. Ball joint mount: check the play, correct seating and the dust protection caps. NOTICE ...
NOTICE On the front differential lock, a multi-plate clutch similar to the all-wheel clutch can be found. The front differential lock is filled with high-performance oil for all-wheel drive clut ...
See also:
Adjusting front axle convergence
Special tools and workshop equipment required Torque wrenches - V.A.G 1332- Insert tool - V.A.G 1332/9- Counterhold track rod ball joint -1- with spanner when loosening and tight ...