Seat Leon >> Poly-V belt: check condition
Carry out the following work:
Crank engine using vibration damper, using a socket spanner.
Check the Poly-V belt -1- with respect to:

Substructure cracks (cracks, core ruptures, cross sectional breaks)
Layer separation (top layer, cord strands)
Base break-up
Fraying of cord strands
Wear on edges of belt (wear of material, frayed edges, hardened edges -brittle edges-, surface cracks)
Traces of oil and grease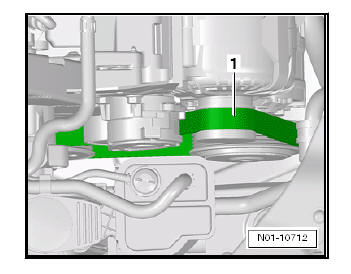 NOTICE If faults are detected, the Poly-V belt must be replaced. This will avoid possible breakdowns or operating problems. Renewing the poly V-belt is a repair measure.
Notched timing distribution belt: replace
TDI common rail engine
Removing and fitting the notched belt.
Tensioning roller
Remove the notched belt tension roller.
Renewing poly V-belt
Removing and fitting the ribbed belt.
Remove the guard and check the toothed belt. Install toothed belt guard. WARNINGApplies only for petrol engines as they do not have a specified timing belt change interval. Rem ...
NOTICE On some vehicle models locking element are installed in the front suspension struts. You can recognise these vehicles by the label that is hanging on the handle (passenger side). There ma ...
See also:
Pressing tyre off wheel rim
New wheels with a modified contour have been introduced for all vehicles as of model year 2005. The tyre fitting unit must be furnished with the tyre fitting head designed for these wheels. ...