Seat Leon >> Removing and installing supplementary air heater element - Z35-
Removal:
Turn off the ignition and all electricity consumers.
Vehicles without access and start authorisation system
Remove ignition key, if fitted.
Vehicles with access and start authorisation system
Store ignition key outside the vehicle to prevent the ignition from being switched on unintentionally.
Continued for all vehicles
Disconnect battery.
Remove knee airbag on driver's side.
Remove the side trim of the centre console and the lower dash panel trim.
Unscrew the nut -3- and detach the earth wire -4-.
WARNING
Risk of scalding.
The auxiliary air heater element - Z35- may be hot if it was in operation prior to removal.
Do not grasp hold of the hot metal surface of the auxiliary air heater element -Z35- .
Unplug the connector -2- by sliding the locking element -5- upwards and pressing the catch inwards.
Remove bolts -arrows-.
Remove the heater element for supplementary air heater - Z35- -1- of the housing -6- to the left.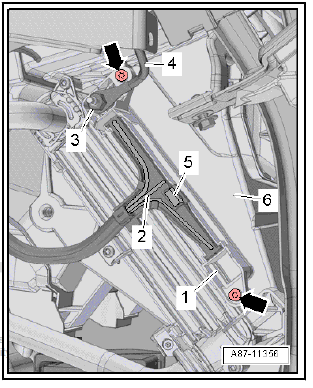 Installing
Install in reverse order of removal; note the following.
Special tools and workshop equipment required Ultrasonic cleaning unit for the air conditioner circuit - VAS 6189B- Cleaning liquid - VAS 6189/1- Suction nozzle - VAS 6288- Commercially av ...
WARNINGDanger from refrigerant escaping under pressure! Freezing of skin and other body parts. Evacuate the refrigerant and then open the refrigerant circuit immediately. ...
See also:
Towing and being towed
Front towing eye The cover of the bumper is raised by pressing slightly -arrow-. Carefully remove the cover in -direction of arrow-. Screw-in the towing eye all the way into the threaded hol ...