Seat Leon >> Installing and removing the bulb for front blinker light M5 / M7
Note
The figures show the replacement of the left turn signal lamp of the left headlamp. The turn signal in the right-hand headlamp is replaced in the same way.
The headlight does not have to be removed.
Removing
Switch off ignition and all electrical consumers.
Vehicles without access and start authorisation system
Remove ignition key, if fitted.
Vehicles with access and start authorisation system
Store the ignition key outside the vehicle to prevent the ignition from being switched on unintentionally.
Continued for all vehicles
Separate the headlight cover -3-.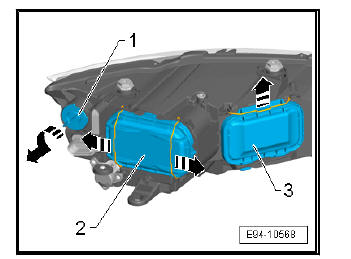 Rotate bulb holder -1- to the left remove it in the direction of the -arrow-.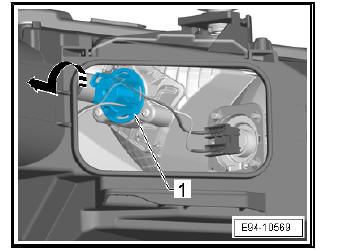 Hold the bulb holder -1- press in the bulb -2- arrow -A- and turn to the left -arrow B- .
Remove bulb -2- from holder -1-.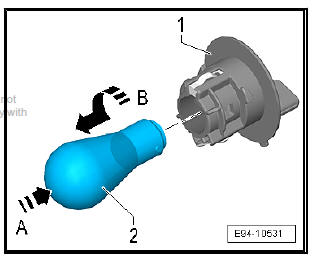 Adjusting headlights, headlight with halogen bulb In principle, the following conditions for adjustment and verification are valid for all countries. But legal guidelines and prescriptions of each ...
Note Broken-off headlight retaining tabs can be renewed by installing repair kit. Therefore there is no need to replace the entire headlight. Different repair kits are available for both lef ...
See also:
Removing and installing rear axle
Removing and installing rear axle, torsion beam axle Special tools and workshop equipment required Support tool - T10038- Torque wrenches - V.A.G 1332- Engine/gearbox jack - VAS ...