Seat Leon >> Adjusting selector mechanism
Special tools and workshop equipment required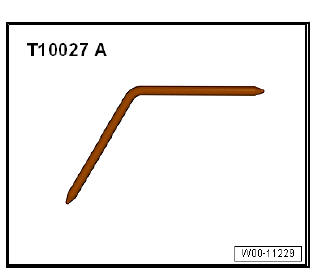 Conditions for the adjustment
Drive and transmission elements of the gear drive mechanism in perfect condition.
Selector mechanism must move freely.
Gearbox, clutch and clutch mechanism in perfect condition.
Gearbox in neutral.
Pull locking mechanisms on gate selector cable and gear selector cable end-pieces forward to stop -direction of arrow 1- and then turn to left to lock -direction of arrow 2-.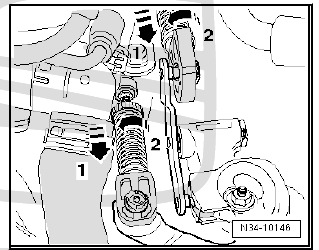 Lock selector shaft as follows:
Press selector shaft down in -direction of arrow 1-.
While pressing down selector shaft, turn angled rod -A- in -direction of arrow 2- and at the same time press it in until it engages in selector shaft.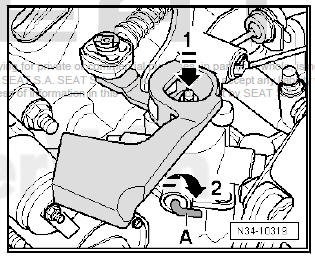 Using removal wedge -T10383/1- , carefully pry gear lever boot off centre console insert -arrows-.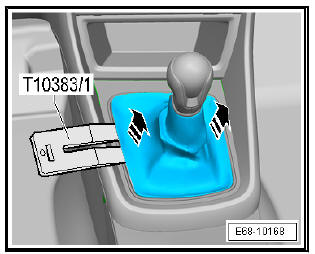 Pull boot up and over gear knob.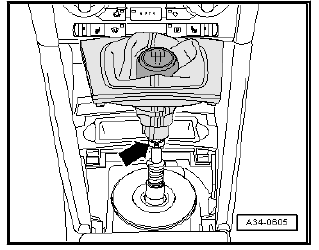 Note Ignore -arrow-.
Now secure gear lever as follows:
Move gear lever to neutral position and, if necessary, keep pressing the gear lever to the left.
Insert the locking pin - T10027 A- in the bore -C- through the noise insulation -A- and the bore -B-.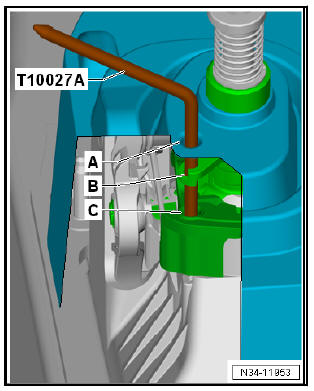 Gate and selector cables -B- must be inserted, free of tension, into locking mechanisms -A-.
Now turn locking mechanisms on gear selector cable and gate selector cable end pieces clockwise to stop -direction of arrow 1-.
The spring presses the locking mechanism into normal position in direction of -arrow 2-.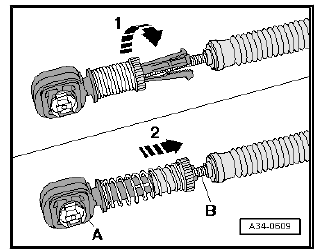 Turn angle lever -A- back to the initial position -in direction of arrow-.
During this procedure, locking pin -A- must be pressed out of gearbox in -direction of arrow-.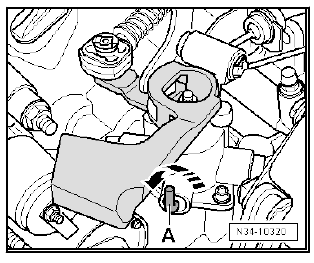 Pull locking pin - T10027 A- out of noise insulation -A- and holes -B- and -C-.
Install gaiter with selector knob.
Ensure that the selector shaft can move freely.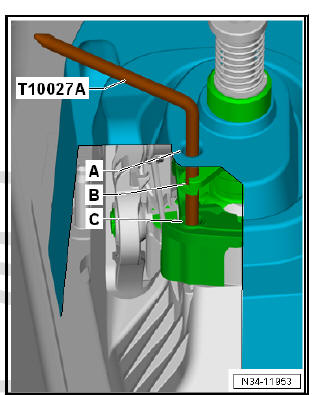 Gear mechanism: verification
With gearbox in neutral, selector lever must be in selector lever gate for 3rd and 4th gear.
Engage clutch.
Select all the gears several times. Pay particular attention to the operation of the reverse gear locking mechanism.
If it continues to be difficult to engage a gear after repeated attempts, repeat adjustment procedure of selector mechanism.
Seal for the selector shaft: replacement
Special tools and workshop equipment required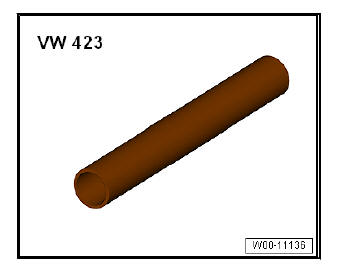 Sealing grease
For grease allocation, refer to - Electronic parts catalogue (ETKA) .
Remove gearbox selector lever and gate relay lever.
Lever seal out using a screwdriver.
Lightly oil outer circumference of new oil seal.
Fill space between sealing lip and dust lip -arrow- with sealing grease .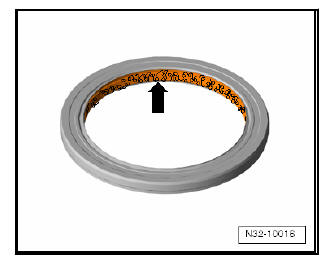 Inserting oil seal -A- onto stop
Install gearbox selector lever and gate relay lever