Seat Leon >> Removing and installing driver door control unit - J386- and front passenger door control unit - J387-
Removing
Removing interior trim of front door: Front door trim: removing and installation; front door trim: removing and installation.
Unplug electrical connectors -2 and 3-; to do so, pull locking element and press release mechanism downwards.
Disconnect connector -4-.
Unplug electrical connector -1- at door control unit and move clear.
Press retaining catch -5- in direction of -arrow- and disengage door control unit from door shell.
fitting
Installation is done in reverse order of removal operations.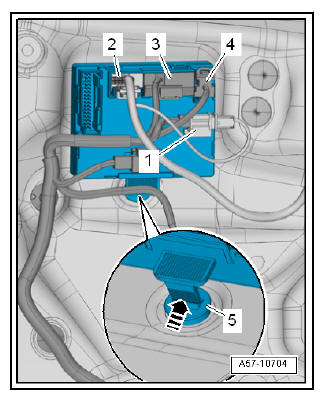 Removing and installing ignition key battery
Special tools and workshop equipment required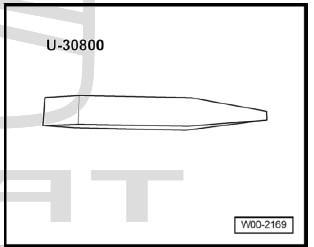 Removing
Fold out the key -arrow A-.
With the lever - U30800- , remove the cover in the direction of the -arrow b-.
On the intended tabs of the key body, remove the battery from its mount using a small flat-headed screwdriver.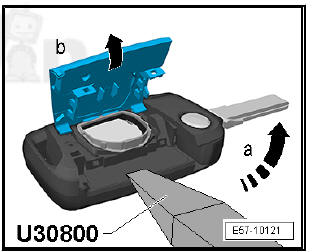 Installing
Note
Ensure correct polarity and mounting position when installing battery.
The poles and the battery specification are embossed on the inside of the key cover.
Insert the battery in the direction of the -arrow- into its mount making sure that the positive pole is visible (pointing upwards).
Press down on the battery in order to engage tight in the mount.
Fit the key cover and press on until you can hear a characteristic "clicking" sound.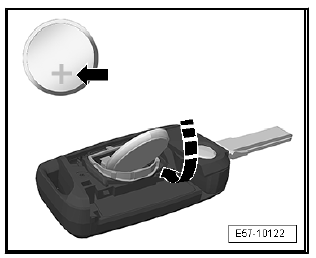 Caution
Complete this process when replacing a key
Key programming
Note
A new key (or several keys) is programmed using the vehicle diagnosis tester .
This process also includes programming the remote control.
- Select:
Bodywork
Electrical system
01 - Self-diagnosis-compatible systems
09 - Onboard supply control unit - J519
09 - Onboard supply control unit, functions
09 - Check vehicle key with the remote control