Seat Leon >> Removing and installing door lock
Caution
The following does not have to be removed to remove the lock from the front door:
Mount for the outside handle
Door on the drivers side: Remove lock cylinder
Removing
Move door window to "closed" position.
Remove the interior protection cover
Detach connector -5-.
Unscrew the bolts -1- and -3-.
Carefully move the lock -2- in order to obtain access to the fixing points of the cable -4- on the-door lock side-.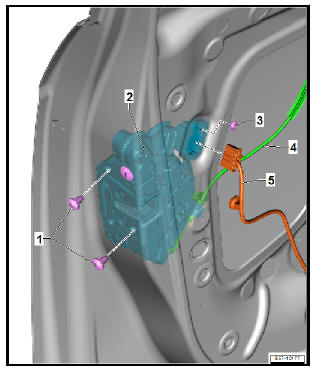 Turn the actuating cable with the lever -1- through 90º in direction of arrow -b- and remove it from resistance mounting of actuating cable -4-.
Unfasten hose -3-, -Arrow a - of release lever -2- from door lock.
Remove the cable of the exterior handle on the -door lock side-
fitting
Fit in reverse order from removal, remembering the following: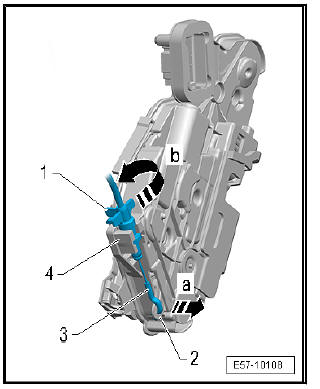 Caution
Do not close the door.
After completing the installation work, check for troublefree function as Bowden cables set or hung in incorrectly may prevent the door from opening.