Seat Leon >> Towing eyes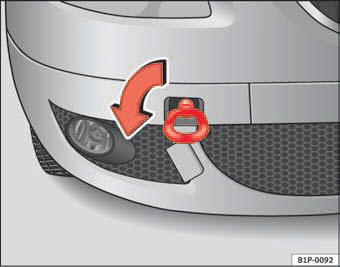 Fig. 181 The front right section of the vehicle: Fitting the front towing eye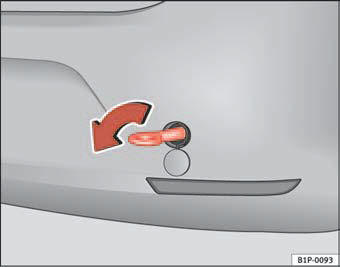 Fig. 182 Fitting the towing eye to the rear of the vehicle
Please observe the following points if you use a tow-rope:
Notes for the driver of the towing vehicle
– Drive slowly at first until the tow-rope is taut. Then accelerate gradually.
– Begin and change gears cautiously. If you are driving an automatic vehicle, accelerate gently.
– Remember that the brake servo and power steering are not working in the vehicle you are towing. Brake earlier than you would normally, but with a more gentle pressure on the brake.
Notes for the driver of the towed vehicle
– Ensure that the tow-rope remains taut at all times when towing.
Fitting the towing eye
– Take the towing ring from the onboard tools.
– Pull the lower front cover down and leave the cover hanging on the vehicle.
– Remove the cover of the screw hole, insert a screwdriver into the lower slot and lever gently.
– Screw the towing eye as shown by arrow anti-clockwise to the limit position in the front fig. 181 or rear fig. 182 threaded hole.
Tow-rope or tow-bar
It is easier and safer to tow a vehicle with a tow-bar. You should only use a tow-rope if you do not have a tow-bar.
A tow-rope should be slightly elastic to reduce the loading on both vehicles.
It is advisable to use a tow-rope made of synthetic fibre or similarly elastic material.
Attach the tow-rope or the tow-bar only to the towing eyes provided or a towing bracket.
Driving style
Towing requires some experience, especially when using a tow-rope. Both drivers should be familiar with the technique required for towing. Inexperienced drivers should not attempt to tow-start or tow away another vehicle.
Do not pull too hard with the towing vehicle and take care to avoid jerking the tow-rope. When towing on an unpaved road, there is always a risk of overloading and damaging the anchorage points.
The ignition of the vehicle being towed must be switched on to prevent the steering wheel from locking and also to allow the use of the turn signals, horn, windscreen wipers and washers.
As the brake servo does not work if the engine is not running, you must apply considerably more pressure to the brake pedal than you normally would.
As the power assisted steering does not work if the engine is not running, you will need more strength to steer than you normally would.
Towing vehicles with an automatic gearbox
• Put the selector lever into position "N".
• Do not drive faster than 50 km/h when towing a vehicle.
• Do not tow further than 50 km.
• If a breakdown vehicle is used, the vehicle must be towed with the front wheels raised
Note
• Observe legal requirements when towing or tow-starting.
• Switch on the hazard warning lights of both vehicles. However, observe any regulations to the contrary.
• For technical reasons, vehicles with an automatic gearbox must not be tow-started.
• If damage to your vehicle means that there is no lubricant in the gearbox, you must raise the drive wheels while the vehicle is being towed.
• If the vehicle has to be towed more than 50 km, the front wheels must be raised during towing, and towing should be carried out by a qualified person.
• The steering wheel is locked when the vehicle has no electrical power. The vehicle must then be towed with the front wheels raised. Towing should be carried out by a qualified person.
• The towing eye should always be kept in the vehicle. Please refer to the notes