Seat Leon >> Locking and unlocking the vehicle
The remote control key can be used to lock and unlock the vehicle from a distance.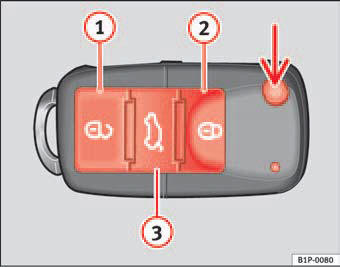 Fig. 63 Assignment of buttons on the remote control key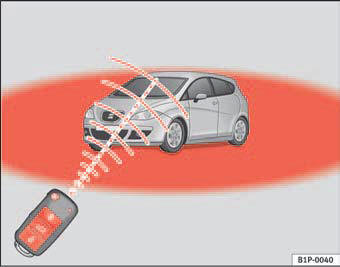 Fig. 64 Range of the
Using the button fig. 63 (arrow) on the control, the key shaft is released.
Unlocking the vehicle

fig. 63 1. The doors and the tailgate are unlocked.
Locking the vehicle

. fig. 63 2 Unlocking the tailgate. Press the button

fig. 63 3 until all indicators on the vehicle briefly flash. When the unlocking button

3 is pressed, 2 minutes remain for opening the door. Once this time has passed, it will lock once more.
Also, the battery indicator on the key fig. 63, will flash.
The remote control transmitter and the batteries are integrated in the key. The receiver is in the interior of the vehicle. The maximum range of the remote control depends on various conditions. The range is reduced when the batteries start to lose power.
Selective unlocking*
When the button

1 is pressed once the driver's door is unlocked, all others remain locked.
Press the button

1 twice to unlock all doors.
WARNING
• Incorrect use of the key can result in critical injuries.
• Never leave children or disabled persons in the vehicle; in case of emergency they may not be able to leave the vehicle or look after themselves.
• Never leave any of the vehicle keys in the vehicle. This could result in serious injuries, accidents or the theft of your vehicle. Always take the key with you when you leave the vehicle.
• Unsupervised use of a key could mean that the engine is started or that electrical equipment is used (e.g. electric windows). Risk of accident. The vehicle can be locked using the remote control key. This could result in people being trapped in the vehicle in an emergency.
Note
• The radio-frequency remote control can also be programmed so that only the driver's door is unlocked the first time that the unlocking button on the radio frequency remote control key is pressed. When the button is pressed once more, all doors and the tailgate will be unlocked.
• The remote control functions only when you are in range fig. 64 (red area).
• If the vehicle is unlocked using the

1 button, the vehicle will be locked again automatically if any of the doors or the tailgate are not opened within 30 seconds of unlocking the vehicle. This function prevents the vehicle from remaining unlocked if the unlocking button is pressed by mistake.
• If the vehicle cannot be opened and closed using the remote control, the remote control key will have to be re-synchronised