Seat Leon >> Securing the child seat using the "ISOFIX" and "Toptether"system or the antirotation mechanism/system.
The child seat with "ISOFIX" system can be secured quickly, easily and safely on the rear outer seats using the system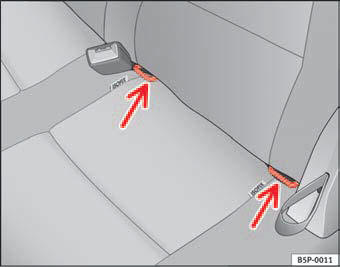 Fig. 30 ISOFIX securing rings
When removing or fitting the child seat, please be sure to follow the manufacturer's instructions.
– Move the seat as far to rear as it will go.
– Press the child seat onto the "ISOFIX" retaining rings until the child seat can be heard to engage securely. If the child seat is fitted with "Toptether" anchoring, connect it to the corresponding ring. If the child seat is fitted with any other antirotation system, follow the manufacturer instructions carefully.
– Pull on both sides of the child seat to ensure that it is secure.
Two "ISOFIX" retaining rings are fitted on each rear seat. In some vehicles, the rings are secured to the seat frame and in others they are secured to the rear floor. The "ISOFIX" rings can be accessed between the seat back and the seat cushion. The "Toptether" rings are located in the rear space in the back. They are often located on the rear of the seat backs.
Child seats with "ISOFIX" and "Toptether" mountings are available from the Authorised Service Centres.
WARNING
• The retaining rings are designed only for use with "ISOFIX" and "Toptether" systems.
• Never secure child seats that do not have the "ISOFIX" or "Toptether" system, retaining belts or objects to the fastening rings – this can result in potentially fatal injuries to the child!
• Ensure that the child seat is secured correctly using the "ISOFIX" and "Toptether" anchors.