Seat Leon >> Function of side airbags
Inflated airbags can reduce the risk of head or chest injury in many side impact collisions.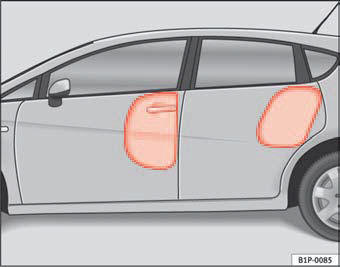 Fig. 22 Illustration of principle: inflated side airbags on left side of vehicle
In some side collisions the side airbag is triggered on the impact side of the vehicle fig. 22.
In certain types of accident, the front curtain and side airbags may be triggered together.
When the system is triggered, the airbag is filled with propellant gas.
In order to provide the desired extra protection in an accident, the airbags have to deploy extremely rapidly (within fractions of a second). A fine dust may develop when the airbag deploys. This is normal and is no indication that there was a fire in the vehicle.
The fully deployed airbags cushion the movement of the occupants of the front seats and the outer rear seats and help to reduce the risk of injury to the upper body.
The special design of the airbag allows the controlled escape of the propellant gas when an occupant puts pressure on the bag. Thus, the head and chest are surrounded and protected by the airbag.