Seat Leon >> Seat belt adjustment
The seat belts for the front and rear occupants are locked into position by a latch.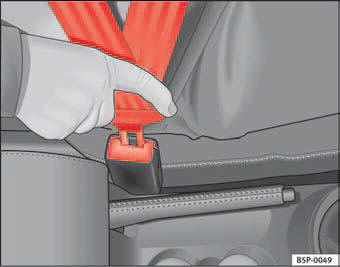 Fig. 11 Belt buckle and latch plate of seat belt
The seat belt cannot offer its full protection if the belt web is not positioned correctly.
– Adjust the seat and head restraint correctly.
– To fasten the belt, take hold of the latch plate and pull it slowly across your chest and lap.
– Insert the latch plate into the buckle for the appropriate seat and push it down until it is securely locked with an audible click fig. 11.
– Pull the belt to ensure that the latch plate is securely engaged in the buckle.
The seat belts are equipped with an automatic retractor on the shoulder strap. Full freedom of movement is permitted when the shoulder belt is pulled slowly. However, during sudden braking, during travel in mountains or bends and during acceleration, the automatic retractor on the shoulder belt is locked.
The automatic belt retractors on the front seats are fitted with belt tension devices.
WARNING
• An incorrectly worn seat belt web can cause severe injuries in the event of an accident.
• The seat belts offer best protection only when the backrests are in an upright position and the seat belts have been fastened properly.
• Never put the latch plate in the buckle of another seat. If you do this, the seat belt will not protect you properly and the risk of injury is increased.
• If an occupant is incorrectly belted in, the belt cannot protect him or her properly. An incorrectly positioned belt web can cause extremely severe injuries.
• Always engage the retractor lock when you are securing a child seat in group 0, 0+ or 1.