Seat Leon >> Recommended summer tyres
Recommended summer tyres for all
Notes regarding the recommended tyres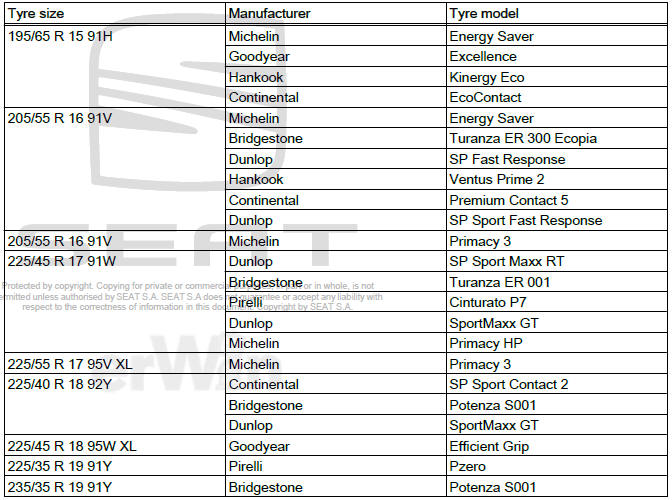 Recommended all-season tyres
Recommended all-season tyres for all
Notes regarding the recommended tyres

Recommended temporary spare tyres and wheels
Notify your customers of the following information whenever necessary, and refer them to the Owner's Manual.
The information given below also applies to spare wheels (6.5 J x 16 with 205/55 R 16 tyres) which have a yellow sticker specifying "MAX 80 km/h" or "MAX 50 mph".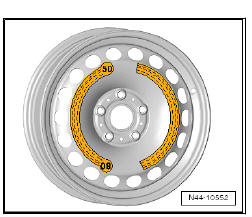 Note
Depending on the vehicle equipment cars have a spare wheel with the sticker described above instead of a temporary spare wheel.
Emergency or spare wheels of this type have been designed for provisional use and for short periods of time. Therefore they should be changed as soon as`possible for normal wheels.
Tyre pressures of emergency or spare wheels should be checked immediately after assembly.
Tyre pressure information is located on the tyre pressure plate on the inside of the tank flap or on the driver side B-pillar.
Do not exceed the maximum speed stated on the spare wheel ("MAX 80 km/h" or "MAX 50 mph").
Avoid full acceleration, heavy braking and fast cornering.
Never drive the vehicle with more than one spare wheel/temporary spare wheel.
It is not permitted to use snow chains on the spare wheel for technical reasons.
If you need to use snow chains, you should therefore fit the spare wheel on the rear axle if the puncture occurred on a front tyre. The good wheel removed from the rear axle should then be fitted in place of the punctured front wheel.
Refer to - Electronic parts catalogue "ETKA" for replacement part numbers.

2) not for 4Motion