Seat Leon >> Bleeding hydraulic system following standard procedure
Note
Bleeding of the brake system is described using brake filling and bleeding equipment - VAS 5234- with adapter - VAS 5234/1- .
A pressure of at least 2 bar is required to bleed the ABS hydraulic unit - N55- .
Changing brake fluid
Special tools and workshop equipment required
Brake filling and bleeding equipment - VAS 5234- with adapter - VAS 5234/1A-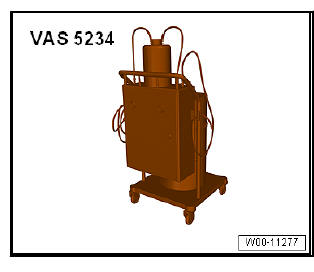 Tool set for brake bleeding - VAS 6564-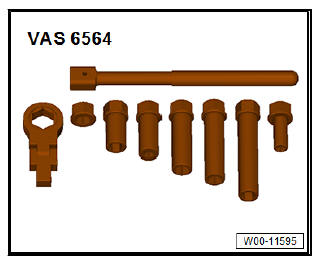 Procedure:
Remove protective cap from bleeder screw on brake calliper and fit hose from bleeder bottle onto bleeder screw.
Note On vehicles with EDS, EDS/ASR or EDS/ASR/ESP, the prebleeding procedure must first be performed if one chamber of the brake fluid reservoir has run completely dry.
Carry out the following work:
Additional step for vehicles with diesel engine:
Unbolt pressure converter or solenoid valve block from bracket and lay to side.
Continuation for all models:
Connect brake filling and bleeding equipment - VAS 5234- .
Open bleeder valves in the specified sequence and bleed brake callipers.
Adhere strictly to work sequence when bleeding brake system.
Bleeding sequence:
Front left brake caliper
Front right brake caliper
Rear left brake caliper
Rear right hand side brake calliper
Use suitable bleeder hose. It must sit tightly on bleeder valve so that no air can enter brake system.
Leave bleeder valve of each brake calliper open with bleeder hose fitted until brake fluid discharges free of air bubbles.
Press brake pedal 5 times to assist bleeding process.
Tighten bleeder screw, detach bleeder hose and fit protective cap on bleeder screw.
Repeat bleeding procedure in stated sequence at other brake callipers.
Fill brake fluid reservoir up to max. marking (depending on degree of pad wear) and screw on filler cap.
Start engine and check brake pedal travel and brake pedal pressure.
In the event of excessive pedal travel, check brake system for leaks and/or repeat bleeding procedure.
Zero compensation for brake pressure sender 1 - G201- must be performed after bleeding brake system - Vehicle diagnostic tester.
After bleeding the air from the system, test drive the vehicle. During this test run, at least one cycle of the ABS regulation must occur on each of the wheels.
Changing brake fluid
Caution
Before performing the first test drive, make sure that the brakes are operating correctly.