Seat Leon >> Removing and installing brake splash plate
Removing:
Dismantle brake disc.
Unscrew screws -arrows- of splash plate -1-.
Remove splash plate -1- from the wheel hub.
Installation:
Clean wheel hub and splash plate.
Fit splash plate onto wheel hub.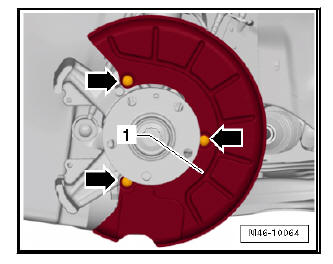 WARNING
Firmly depress the brake pedal several times with the vehicle stationary, so that the brake pads are properly seated in their normal operating position.
Make sure that the brakes work properly before the vehicle is driven on the road.