Seat Leon >> Steering wheel
Assembly overview - steering wheel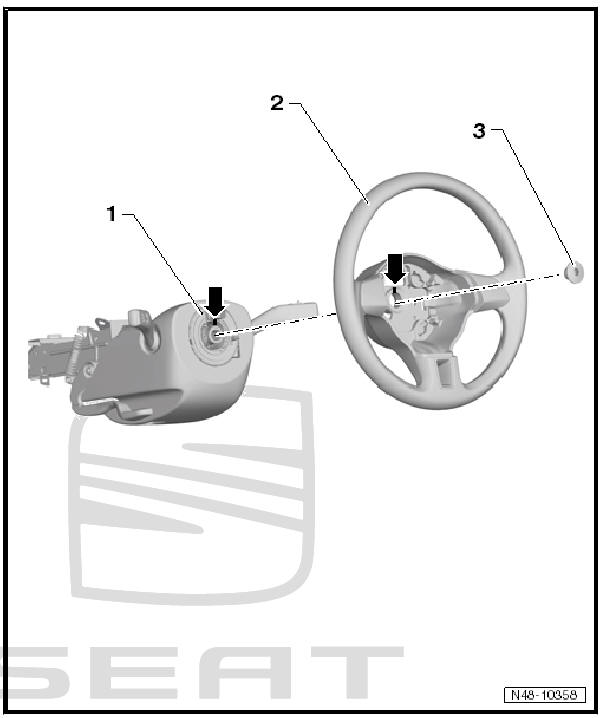 - Steering column

Removing and installing
The centre punch marks -arrows- on the steering wheel and the steering column must align when reinstalling. Some steering columns leave the factory with no centre punch mark. On these steering columns a respective centre punch mark must be made before removing the steering wheel

- Steering wheel

Removing and installing
Various models, allocation - Electronic parts catalogue
The centre punch marks -arrows- on the steering wheel and the steering column must align when reinstalling. Some steering columns leave the factory with no centre punch mark. On these steering columns a respective centre punch mark must be made before removing the steering wheel

- Bolt

Always renew after removing
30 Nm +90º
Steering wheel: removing and fitting
Special tools and workshop equipment required
Torque wrenches - V.A.G 1332-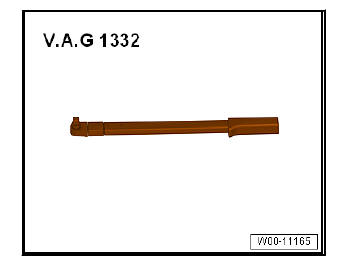 Removing
WARNING
The following conditions must be met before starting work on the electrical system and removing the steering wheel:
Disconnect the battery earth lead .
Put the wheels straight.
Failure to comply with these precautions may lead to subsequent failure of the airbag system!
Move steering column to middle height position.
Remove airbag unit .
Put the wheels straight.
Note The steering must be in the centre position (wheels straightahead) when the steering wheel is removed and installed.
Unscrew bolt -1-.
Check that steering column has a centre punch mark that aligns with mark on steering wheel.
If this is not the case, the position of the steering wheel to steering column must be marked on the steering column with a centre punch mark.
Pull steering wheel -2- off steering column.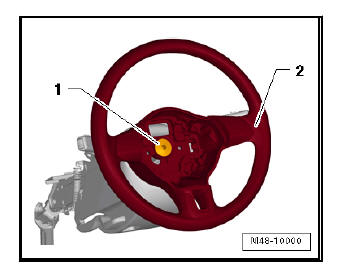 Installing
Carry out installation in the reverse sequence, noting the following:
Make sure that the wheels are pointing straight ahead before fitting the steering wheel.
When installing a steering wheel that has been removed, make sure that the markings on the steering column and steering wheel are in line.
When installing a new steering wheel (without marking), the steering wheel must be mounted in middle position (steering wheel spoke must be horizontal and wheels in straight position).
Fitting the steering wheel
Install airbag unit .
If the steering wheel is skewed, the steering wheel must be removed again and fitted onto the splines of the steering column.