Seat Leon >> Pressing tyre off wheel rim
New wheels with a modified contour have been introduced for all vehicles as of model year 2005.
The tyre fitting unit must be furnished with the tyre fitting head designed for these wheels.
WARNING
Otherwise there is a danger that the wheel will be damaged.
If the tyre fitting unit has not yet been modified, please contact the manufacture of the unit.
Safety instructions and conditions for removing and installing tyres
It is extremely important to adhere to the instructions and warnings in the following descriptions.
Remove air from tyre by screwing out the nickel-plate valve element.
Always ensure when pressing off a tyre using tyre fitting equipment with a press-off plate, that the tyre valve -arrow- is directly opposite the press-off plate -1-.
The bead breaker must be positioned no more than 2 cm from wheel rim flange.
Remove balancing weights and rough dirt from wheel.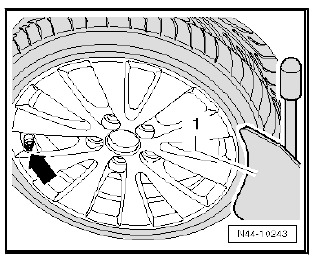 Press both tyre beads off all round and liberally coat tyre and wheel rim flange with tyre assembly paste -arrow-.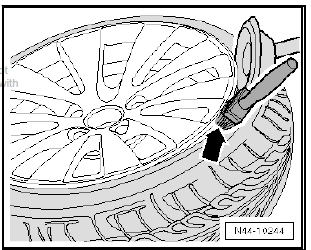 Disposal of sealant
Tyre sealant or residue must not be mixed or disposed of with other fluids.
Excess tyre sealant must be collected and stored in a plastic container. The plastic container can be disposed of through the disposal system along with the breakdown set (when the expiry date is exceeded)
The items can be returned or disposed of through the existing workshop disposal system.
Request information through your service provider or the disposal representative at your distribution centre or importer.
Vehicles with breakdown set
Note
The breakdown set is located in the cavity of the spare tyre.
The breakdown set includes a tyre sealant bottle, among other things.
Expiration date
Check the expiration date.
The expiration date is on a sticker on the tyre sealant bottle indicated by an -arrow-.
If the expiration date has been exceeded, replace the tyre sealant (the tyre sealant expires after 4 years).
If the bottle has been opened, e.g. to repair a tyre, then it must also be renewed.
Observe regulations for disposal.