Seat Leon >> Removing a tyre from the rim
Tyres which have been filled or sealed using tyre sealant must be drained before removal.
Caution
Avoid eye and skin contact with tyre sealant.
It can cause injury, irritation to eyes and allergies.
During this work, wear protective gloves and safety goggles.
Place the wheel on a flat surface.
Unscrew and remove the valve insert of tyre valve.
Use a suitable drill or mill to carefully drill a hole in shoulder area of tyre.
Hold wheel over a suitable container and drain sealant.
Remove tyre from rim.
Clean wheel rim with, for example, a moist cloth.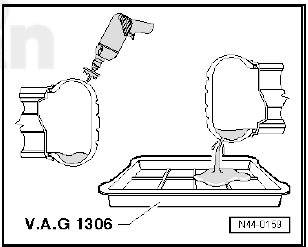 Installing tyre
Ensure that the wheel rim is clean.
Insert new tyre valve with -VAS 6459- -1-.
Unscrew the valve core.
Pump up tyre to approx. 3 ... 4 bar. The bead of the tyre must slip noticeably over the hump of the rim.
Screw in the valve core.
Check tyre pressure to make sure prescribed pressure has been reached.
Balance the wheel.