Seat Leon >> Removing and installing coupling rod
Special tools and workshop equipment required
Torque wrenches - V.A.G 1331-
Support tool - T10038-
Engine and gearbox jack - VAS 6931- or - V.A.G 1383 A-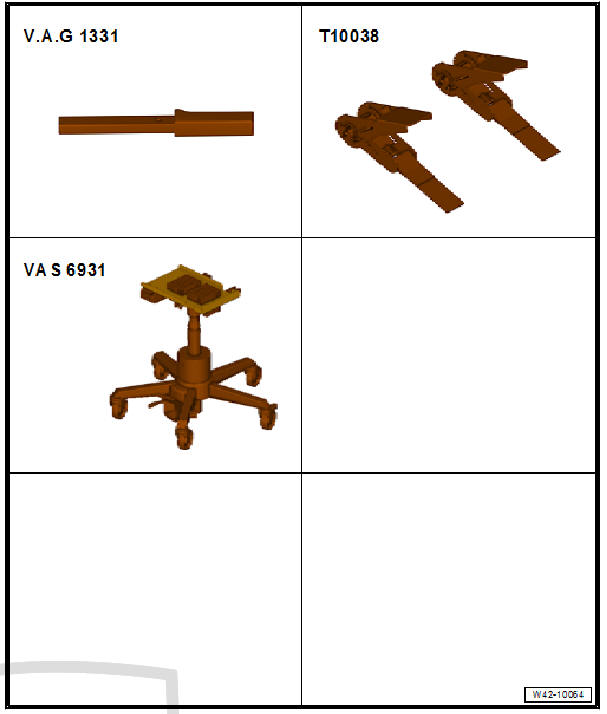 Removing
Remove rear wheel on affected side.
Use tensioning straps - T10038- to strap vehicle to support beams of lifting platform on both sides.
- Support tool - T10038-
WARNING
If the vehicle is not strapped down, there is a great danger that the vehicle will slip off the lifting platform!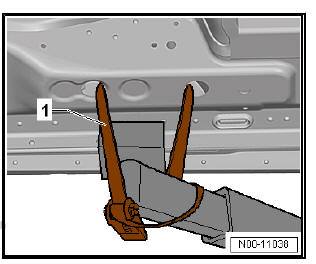 Vehicles with stone deflector
Remove spreader rivets -1-.
Remove bolts -2- for stone guard -3-.
Continuation for all models:
Position engine and gearbox jack - VAS 6931- or - V.A.G 1383 A- beneath the lower transverse link.
Press transverse suspension link upwards slightly.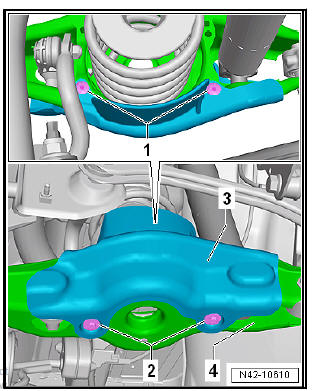 Undo nuts -1- and -3- and pull out bolt -4-.
Pull coupling rod -2- out of anti-roll bar and trailing arm.
Installing
Carry out installation in the reverse sequence, noting the following: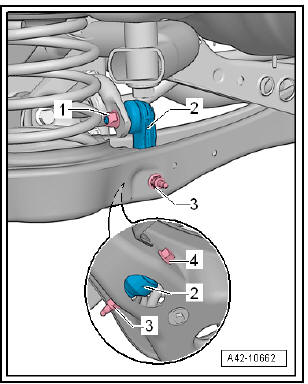 Insert coupling rod -2-, fit nuts -1- and -3- and tighten in unladen position.
When tightening nut -1-, counterhold at multi-point socket of bolt.